NPA Creative and Digital Media: Technologies, Processes and Practices at SCQF level 6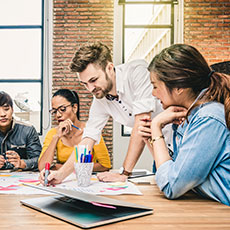 National Progression Awards (NPAs) assess a defined set of skills and knowledge in specialist vocational areas, linked to National Occupational Standards. The NPA in Creative and Digital Media: Technologies, Processes and Practices at SCQF level 6 introduces learners to technologies, processes and practices that are important in the creative and digital technology sector.
This NPA develops knowledge and understanding of processes and disciplines in the creative industries sector; practical, technical and transferable skills; oral, written and evaluation abilities; resource management; problem solving and planning; and organisational and communication skills.
This qualification covers areas such as: career paths, job roles and the responsibilities of those working within the creative industries; the generic skills and attitudes valued by employers; storytelling techniques (traditional and emerging techniques); the key elements of the creative process (media platforms, media commissioning, audience research and legal controls); and the structure and language of creative briefs and how they can be interpreted.
The qualification is available through schools, colleges and training providers.
Use the tabs below to open each section individually. Alternatively you can show allhide all the sections.
Rationale and purpose of this qualification
Purpose
NPAs are trusted because they are developed by practitioners from industry and are supported by the relevant sector skills council (SSC). The NPA in Creative and Digital Media: Technologies, Processes and Practices was developed in partnership with Creative Skillset and employers. Creative Skillset is the SSC for the creative industries.
The NPA in Creative and Digital Media: Technologies, Processes and Practices at SCQF level 6 offers current, fit-for-purpose, bite-sized chunks of learning that are straightforward for centres to adopt and for learners to study. New skills can be gained quickly and cost-effectively.
NPAs provide opportunities for partnership delivery that can provide benefits for partners and increase options for learners.
NPAs can add value and breadth to a CV for a learner by developing vocational skills.
This NPA covers SCQF levels 5 and 6 allowing clear progression and development routes to:
further and higher education
employment
This NPA provides opportunities to develop:
Core Skills transferable skills
employability skills           
If the NPA is being offered as part of the Foundation Apprenticeship, it is expected that learners will complete the NPA in S5 or S6.
If offered as a stand-alone qualification, the NPA could be undertaken in one of the following modes:
full-time (eg as a fast-track into full a NC or HN programme)
part-time (eg day-release)
evening provision
Apprenticeships
This NPA is a mandatory component in the Level 6 Creative and Digital Media Foundation Apprenticeship.
SQA also offers the following components of this Apprenticeship:
Work effectively with others in the Creative Industries (H6NX 04)
Ensure Your Own Actions Reduce Risks to Health and Safety (FA8G 04)
Communicating Using Digital Marketing/Sales Channels (H6PG 04)
Use Digital and Social Media in Marketing Campaigns (H6PH 04)
Media Project (F57P 12)
Progression
The level 6 NPA could provide progression to:
the Foundation Apprenticeship at SCQF level 6
NC in Creative Industries at SCQF level 6
A range of Modern Apprenticeships in the creative industries, for example:
Modern Apprenticeship in Creative Digital Media at SCQF level 7
Modern Apprenticeship in Creative & Cultural at SCQF level 6
a variety of HNC/HNDs in Creative Industries. For example:
HNC/HND Creative Industries: Television
HNC/HND Radio
HNC/HND Journalism
employment in the creative and digital media sector (with further study or experience)
Deliver this qualification
Thinking of working with us?
Existing customer?
Where can you take this course
Qualification structure
How to assess
Learner portfolio
Group Award Specification