NPA in Travel Agency Skills at SCQF level 6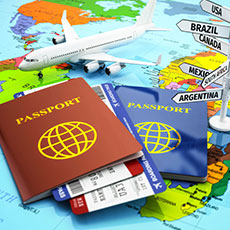 This qualification lapsed on 31/7/2021 and the finish date for all certification is 31/7/2022.
National Progression Awards (NPAs) assess a defined set of skills and knowledge in specialist vocational areas, linked to National Occupational Standards. The NPA in Travel Agency Skills at SCQF level 6 introduces learners to knowledge and skills that are important in the travel sector.
Throughout this Group Award there will be a focus on group work, role play and developing skills in communication, working with others and selling skills.
The qualification covers areas such as selling the travel and tourism product, travel product and services, and leisure and business tourist destinations.
It will allow learners to:
develop a working knowledge of popular travel routes and skills in creating touring programmes and itinerary planning
develop the basic knowledge and skills that are required to identify and select appropriate travel products and services to meet customer requirements
use online systems
develop an understanding of the nature of travel and tourism products/services
develop the knowledge and skills required to sell travel and tourism products/services effectively
The qualification is available through colleges, college/school partnerships and training providers.
Qualification structure
How to assess
Assessment of this award will be a combination of practical and knowledge assessments under closed- and open-book assessment conditions. It is recommended that centres refer to the assessment and Evidence Requirements for each Unit.
Assessment support packs are available for this qualification.
The delivery of the award is at the individual centre's discretion.
Qualification Verification Summary Report
Deliver this qualification
Thinking of working with us?
Existing customer?
Where can you take this course?
Why study this qualification
The NPA is suitable for:
learners who are at school or who may have just left school
mature candidates who may have been out of education for a long period of time and interested in moving into a career in the travel sector
those who are looking to access HN programmes
learners who want to study at a pace and style that they determine
individuals who are seeking national recognition of their achievements
Access
Entry is at the discretion of the centre. However learners would benefit from having attained the skills, knowledge and understanding required by one or more of the following or equivalent qualifications and/or experience:
National 5 qualifications including English (or equivalent)
Units in Travel and Tourism at SCQF level 5
Employment and progression
The NPA could provide progression to:
an HNC/HND in Travel and Tourism or related area
an SVQ in the travel sector
employment in the travel sector
Qualification structure
Where can you take this course?