SQA Advanced Certificate/Diploma in Business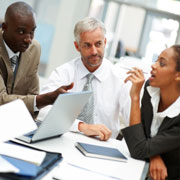 SQA Advanced Cerificate and Advanced Diploma qualifications provide skills and knowledge that employers need. They also allow advanced entry to university internationally.
The SQA Advanced Certificate and Advanced Diploma in Business are designed to provide a broad understanding of business organisations and the environment in which they operate.
The SQA Advanced Diploma has a strong managerial focus which helps successful candidates to progress to management roles. In addition, the wide range of options enables candidates to progress to specialist roles such as human resource management, marketing, and financial services.
These qualifications are available through a growing number of colleges and universities around the world. Typically, an SQA Advanced Certificate takes one year to complete and an Advanced Diploma takes two years to complete.
Alternative assessment guidance 2021-22
Use the tabs below to open each section individually. Alternatively you can show allhide all the sections.
Why deliver this qualification
SQA Advanced Certificates and SQA Advanced Diplomas have been developed by SQA in partnership with colleges, universities and industry — so employers recognise that they provide sound evidence of ability.
The unit-based structure supports flexible delivery. A unit is typically 40 hours of timetabled learning.
Who does this qualification suit
SQA Advanced Certificates and Advanced Diplomas in Business are designed for learners who wish to pursue a career in business — but who don't wish to commit themselves to a specialist area at the outset.
They are suitable for a wide range of candidates including:
school leavers
adult returners to education
those in employment who wish to enhance their career prospects
those who are, or wish to be, self-employed and require a broad grounding in business
Access
Access is at the discretion of the centre. Examples of appropriate entry qualifications are:
NC Business at SCQF level 5
Business Management Higher (SCQF level 6)
relevant National Qualifications or National Qualification Group Awards at SCQF levels 5 or 6 eg any two National Qualifications at Higher level together with three supporting passes at National 5
an SVQ 2 or 3 in a relevant area
Progression
The SQA Advanced Certificate and SQA Advanced Diploma in Business enable learners to acquire skills and knowledge in key business functions such as management, marketing, and finance.
These qualifications also help enhance relevant knowledge and skills in economics, communication, problem solving, and information and communication technology.
Successful candidates also have the option to go on to further study at an equivalent or higher level.
The SQA Advanced Diploma in Business can provide advanced entry to degree-level study. For further information please refer to the SQA university agreements.
Offer this qualification
Centres with devolved authority for approval should use their own internal approval process.
Centres without devolved authority require to come forward for approval and should contact SQA's Business Development Team for guidance.
Assessors and verifiers must be able to meet SQA's general requirements for technical/occupational competence as outlined in the Systems and Qualification Approval Guide.
Specific approval requirements
Centres require ICT facilities for the delivery and assessment of the following units:
IT in Business: Spreadsheets
IT Applications Software 1
Information and Communication Technology in Business
Centres should keep up-to-date with developments in legislation and business practices relevant to the knowledge and skills within these qualifications.
How to assess
Each unit specification gives detailed information on the evidence requirements and approaches to assessment for the unit.
Ongoing course assessment will apply.
Candidates will also be assessed by a graded unit towards the end of the programme. The purpose of a graded unit is to grade the candidate's ability to integrate the knowledge and skills gained in the mandatory units.
The graded units are:
Business: Graded Unit 1 Examination based on a seen case study at SCQF level 7
Business: Graded Unit 2: Project Investigation at SCQF level 8
Qualification structure
SQA Advanced Certificate in Business
Group award code: GM8A 47 (96 SCQF credit points)
SQA Advanced Diploma in Business
Group award code: GM8Y 48 (240 SCQF credit points)
Arrangements
Unit Specifications