Level 4 Diploma in Jewellery Manufacturing CAD/CAM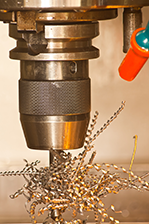 SQA code: GJ6T53
Ofqual code: 601/3221/8
Total Qualification Time: 1175
Guided Learning Hours: 1017
Credit value: 13
This qualification provides learners with the ability to critically evaluate the techniques, materials and tools associated with CAD/CAM in order to produce advanced items of jewellery or silverware. It has been developed in partnership with Creative and Cultural Skills to ensure it meets the needs of the industry.
The areas covered include:
researching, developing and producing drawing plans for the manufacture of precious metal objects
applying advanced knowledge of metallurgy to the manufacture of precious metal objects
producing advanced designs for precious metal objects using CAD technology
producing advanced prototypes for precious metal objects using CAM technology
This qualification may be available through employers, training providers and colleges in England and Wales. 
Use the tabs below to open each section individually. Alternatively you can show allhide all the sections.
Rationale and purpose of this qualification
Its primary purpose is to confirm the learner's occupational competence as a senior jewellery manufacturer or CAD/CAM designer. As a work-related, competence-based qualification it provides confirmation to employers, industry managers and card schemes that the learner has the skills and knowledge needed to meet the nationally recognised standard to carry out the role.
Learners who achieve this qualification can use it to gain employment, to progress in the industry, or to work towards another qualification (see Progression).
Objectives
The qualification is designed to meet the following objectives:
supporting a role in the workplace
meeting the needs of learners who already have some skills and knowledge in jewellery making and design drawing
enabling learners to progress from the Level 3 Diploma in Jewellery Manufacture CAD/CAM
What does this qualification cover?
As this is a competence-based qualification, learners will be acquiring the knowledge and skills required through either on-the-job experience or in a learning environment.
To achieve the whole qualification, learners need a minimum of 118 credits. They must complete four mandatory units plus one optional unit from the qualification structure.
Who is this qualification for?
This qualification is suitable for:
workers wishing to progress to a supervisory position
learners who have completed a qualification in a relevant discipline at Level 3 or Level 4, eg Level 3 Diploma in Jewellery Manufacturing CAD/CAM, Level 3 Diploma in Jewellery and Silverware Manufacturing, or Level 4 Diploma in Jewellery and Silverware Manufacturing
people in employment who wish to enhance their career prospects
individuals who wish to start their own business
Entry
Entry to the qualification is at the discretion of the centre.
This qualification is mainly taken by individuals employed as a:
jewellery production manager
senior jewellery manufacturer
senior precious metal caster
senior jewellery CAD/CAM designer
Apprenticeships
This qualification is a mandatory component in the Higher Level 4 Apprenticeship in Jewellery Manufacturing and Silversmithing in England (as detailed in SASE).
Progression
Learners may progress from the Level 4 Diploma in Jewellery Manufacturing CAD/CAM to a wide range of degree programmes.
The Level 4 Diploma in Jewellery Manufacturing CAD/CAM can lead to employment within the jewellery manufacturing industry.
Deliver this qualification
Thinking of working with us?
Existing customer?
Where can you take this course
Qualification structure
How to assess
Learner portfolio
Assessment strategy/principle