Level 2 Certificate in Jewellery Manufacturing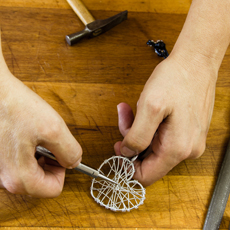 The Level 2 Certificate in Jewellery Manufacturing is a new, 'bitesize' qualification comprising only three jewellery manufacturing units.
The qualification has been developed in collaboration with the British Academy of Jewellery. It offers learners who may not immediately wish to make a commitment to a full diploma programme an opportunity to gain basic jewellery manufacturing skills.
Successful achievement of the Level 2 Certificate can then be used as a platform to a range of Level 3 Jewellery qualifications, including the new Level 3 Diploma in Jewellery Design and Manufacturing. It also provides the necessary skills for learners to begin making their own jewellery, either in a professional setting or as a hobby.
This qualification can be delivered through employers and training providers in England and Wales.
Use the tabs below to open each section individually. Alternatively you can show allhide all the sections.
Rationale and purpose of this qualification
This qualification is aimed at those who have no prior experience of the jewellery manufacturing industry.
It is ideal for anyone who wishes to 'have a go' at jewellery making prior to deciding if they want to progress to longer programmes of learning in the sector.
The primary purpose of the qualification is to provide learners with an opportunity to gain knowledge and basic skills in using tools to cut, pierce, file, and produce formed jewellery or silverware components.
Recognition
This qualification is supported by Creative and Cultural Skills, which is the Sector Skills Council for the jewellery industry.
What does this qualification cover?
The Level 2 Certificate in Jewellery Manufacturing is a competence-based qualification in which learners will acquire the required knowledge and skills through on-the-job experience or in a learning environment.
To achieve the qualification, learners need to achieve a total of 16 credits (160 hours Total Qualification Time). They must complete the three mandatory units from the qualification structure (75 KB).
Who is this qualification for?
This qualification is suitable for:
learners with no prior experience
learners with a keen interest in making jewellery manufacturing a career
learners not in employment who wish to enhance their career prospects
adults returning to education
individuals who wish to start their own business
There is not requirement for any specific skills, knowledge, understanding or any other qualifications in order to start this qualification; however, learners must demonstrate the potential to gain this qualification successfully.
Entry
Entry is at the discretion of the centre.
Progression
On achievement of the Level 2 Certificate in Jewellery Manufacturing, some learners may wish to progress to one of the Jewellery Diplomas at Level 3.
In particular, learners who progress to the Level 3 Diploma in Jewellery Design and Manufacturing may be eligible for accreditation of prior learning for the three jewellery manufacturing units already achieved.
Alternatively, learners achieving the Level 2 Certificate in Jewellery Manufacturing may be able to gain employment at an entry level.
Deliver this qualification
Thinking of working with us?
Existing customer?
Where can you take this course
Qualification structure
This qualification requires the learner to achieve 16 credits (160 hour Total Qualification Time) by completing three mandatory units.
Please refer to the qualification structure (75 KB) for more information.
How to assess
Ongoing course assessment will apply. Each unit specification gives detailed information on the assessment criteria, assessment (evidence) requirements and guidance on instruments of assessment for the unit.
The assessment process will ensure that the learner can complete the tasks they have been directed to undertake and can interpret the instructions correctly. They will demonstrate that they can select the appropriate resources for the tasks and can complete them within the given timescales and specifications whilst also meeting the industry standard and complying with current legislation and company procedures.
Learner portfolio