First Aid Awards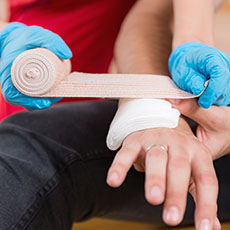 COVID-19 Guidance for First Aid Qualifications
[2 July 2020]
Centres can now progress with delivering and assessing First Aid Awards, with no modifications.
To ensure the safety of trainers, assessors and candidates, centres must risk assess their delivery and assessment activities to mitigate all risks of possible spread of COVID-19. Delivery and assessment must only take place where this is permissible, in accordance with Government guidance on COVID-19 and any regional or local restrictions.
COVID-19 Joint Statement from the First Aid Quality Partnership Group and the First Aid Awarding Organisation Forum (03/06/2020)
The First Aid Quality Partnership Group and the First Aid Awarding Organisation Forum have issued a joint statement providing guidance for the re-commencement of first aid training.
FAQP and FAAOF covid social distancing guidance joint statement (140 KB)
The statement is also available on the First Aid Awarding Organisation Forum's web site.
Please note that training can only re-commence when UK Government and devolved administration guidelines permit.
COVID-19 Advice on future first aid training (26/05/2020)
The First Aid at Work Awarding Organisation Forum (FAAOF) has issued guidance in relation to the future delivery of first aid training.
COVID-19 Updated advice from HSE regarding certificate expiry extensions (26/05/2020)
The Health and Safety Executive (HSE) has issued updated advice regarding certificate expiry extensions until 30 September 2020.
COVID-19: statement from HSE relating to certificate expiry
If requalification training is prevented for reasons associated directly with coronavirus or by complying with government advice, it is reasonable and practicable to extend the validity of current certificates by up to three months. Anyone taking advantage of this extension should be able to describe clearly their reasons for delaying requalification training, and demonstrate the steps they have taken to undertake training, if required.
This guidance comes into effect for certificates expiring on or after 16 March 2020. HSE will review this matter over the coming months and will issue further statements as necessary.