Paediatric First Aid Award SCQF level 6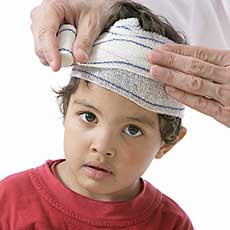 The Award in Paediatric First Aid at SCQF level 6 will equip learners with the knowledge and skills required for further study in paediatric first aid and assist them in gaining employment in a childcare environment.
The Award covers areas such as emergency paediatric first aid and managing paediatric illness, injuries and emergencies.
Covid-19 guidance - updated June 2022
COVID-19 (Coronavirus): guidance on face-to-face classroom training for regulated First Aid qualifications (267 KB)
Use the tabs below to open each section individually. Alternatively you can show allhide all the sections.
Why deliver this qualification
The Award in Paediatric First Aid is a trusted qualification having been developed by the First Aid Awarding Organisation Forum and accredited by SQA Accreditation.
The Award is delivered in a minimum of 12 hours (excluding breaks) over a maximum of six weeks. Delivery sessions should be a minimum of two hours. The learner-trainer ratio is a maximum of 12 to 1.
A blended learning approach can be taken to the delivery of the award. However, the time taken to complete the course should not be reduced and a minimum of two-thirds of the training time (8 hours) must be face-to-face.
Successful completion of this qualification would enable a learner to progress to employment.
The achievement of GT7X 46, Award in First Aid at Work, is a prerequisite to the Award in Paediatric First Aid and will contribute towards its successful completion.
Who does this qualification suit
This qualification is suitable for those working with children, for example nursery and school staff, childminders, parent helpers.
It is also suitable for other learners who wish to further develop their first aid skills in the area of paediatric first aid.
Access
GT7X 46 Award in First Aid at Work, or equivalent regulated qualification in first aid at work.
Progression
The Award in Paediatric First Aid may provide continuing professional development or progression opportunities for those working in a childcare environment — for example, a nursery teacher, school teacher, classroom assistant or childminder.
Approval
Centres interested in offering this qualification require to come forward for approval and should contact SQA's Business Development Team for guidance.
Assessors and verifiers must be able to meet SQA's general requirements for technical/occupational competence as outlined in the Systems and Qualification Approval Guide.
There are additional specific requirements for trainers, assessors and internal verifiers for the Award in Paediatric First Aid. These can be found in the Assessment Strategy and Guidance for the Award in Paediatric First Aid, which can be found on SQA's website.
How to assess
Each individual unit specification gives detailed information on learning outcomes and assessment criteria. There is also specific information provided on how certain assessment criteria should be assessed. The learner must achieve all of the assessment criteria in order to achieve the units and ultimately the group award.
Where can you take this course?
Qualification content and delivery tools
Information about the qualification(s)
Qualification Structure
Group award code: GT7Y 46 (43 KB)
The Award in Paediatric First Aid at SCQF level 6 consists of two mandatory units (J6N2 46) Emergency Paediatric First Aid (1 SCQF credit point) and (J6N3 46) Managing Paediatric Illness, Injuries and Emergencies (2 SCQF credit points). Please refer to the Qualification Structure for details of the units making up this qualification.
Information about delivery, assessment, quality assurance and support material
Assessment strategy
Candidate Guidance and Portfolio
Qualification Verification Summary Reports
Support materials