Level 5 Diploma in Jewellery Design and Manufacturing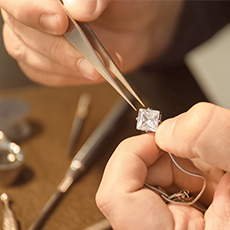 SQA code: GP7D 85
Ofqual code: 603/4592/5
Total Qualification Time: 1080 hours
Guided Learning Hours: 612
The Level 5 Diploma in Jewellery Design and Manufacturing is a new qualification which has been developed in collaboration with the British Academy of Jewellery to provide a qualification that meets the needs of the wider jewellery industry.
The Diploma provides an opportunity for learners to develop and enhance previously gained complex technical skills in jewellery manufacturing and design, while also acquiring new complementary skills. These include: communication and marketing for a business, its products and services; art and design history; and how individuals can plan and manage their own continued professional development (CPD).
This qualification can be delivered by employers and training providers in England and Wales.
Use the tabs below to open each section individually. Alternatively you can show allhide all the sections.
Rationale and purpose of this qualification
The Level 5 Diploma in Jewellery Design and Manufacturing is a comprehensive and practical jewellery qualification which has been created to meet the needs of the wider jewellery industry. To achieve this aim, learners have substantial contact with industry specialists and professional jewellers throughout the learning process.
There are many varied career opportunities available within the industry, from designing and making jewellery, to careers in selling and marketing the product. This qualification caters to learners with ambitions across the breadth of this field.
The qualification develops and enhances the complex technical skills which learners have previously achieved at level 4, while also expanding their design and creative thinking skills. The qualification covers traditional jewellery manufacturing workshop skills and computer aided design (CAD) skills in order to complete and produce both set and self-directed designs.
With the changing economic climate, the growing trend of independent brands, and the diminishing number of skilled manufacturing workers within the trade, this qualification aims to meet the current needs of the industry. It will help develop learners into well-rounded practitioners with a sound knowledge in all areas of the jewellery industry, including a range of complementary skills such as: marketing concepts; art history; communicating within a design environment; and planning and managing one's own CPD.
Recognition
This qualification is supported by Creative and Cultural Skills which is the sector skills council (SSC) for the jewellery industry.
What does this qualification cover?
As this is a competence-based qualification, learners will be acquiring the knowledge and skills required through either on-the-job experience or in a learning environment.
To gain the Level 5 Diploma in Jewellery Design and Manufacturing, learners need to achieve 108 credits by completing the ten mandatory units from the qualification structure. (86 KB)
The unit content comprises:
Advanced Forming and Joining Techniques for Jewellery Manufacturing
Apply Advanced Knowledge of Metallurgy to the Manufacture of Precious Metal Objects
CAD Manufacturing
Jewellery Experimental Techniques
Gemmology
Art and Design Context (Art History)
Plan and Manage Continued Professional Development in Craft
Marketing Concepts for a Business, Products and Services
Communicate Information within a Design Environment
Product Design Project
Who is this qualification for?
This qualification is suitable for a wide range of learners including:
learners already employed within the industry wishing to gain recognition and/or enhance their career prospects
adults returning to education or looking for a career change, who have already developed manufacturing and design skills at an appropriate level
learners who have completed a qualification in a relevant discipline at level 4
individuals who wish to start their own business
Entry
Entry to the qualification is at the discretion of the centre. However, individuals must have the potential and opportunity to gain this qualification successfully. Ideally, learners will have achieved a level 4 qualification in a relevant discipline.
Progression
This qualification is the second stage of the British Academy of Jewellery's three-year learning programme incorporating levels 4-6 (level 6 being equivalent to degree level).
Learners may progress from the Level 5 Diploma in Jewellery Design and Manufacturing to a range of qualifications at level 6 including the Level 6 Diploma in Jewellery Design and Manufacturing, which will be available to learners from 2020.
The Level 5 Diploma in Jewellery Design and Manufacturing qualification can also lead directly into employment within the jewellery industry in a variety of roles including: jewellery designer, jobbing jeweller, goldsmith or silversmith. With the inclusion of critical thinking, and presentation and marketing skills, it is also appropriate for anyone wishing to start their own business.
Deliver this qualification
Thinking of working with us?
Existing customer?
Where can you take this course
Qualification structure
The qualification requires the learner to complete 10 mandatory units (credit value 108).
Please refer to the qualification structure (86 KB) for more information.
Unit specifications and assessment guidance
Unit specifications for this qualification are available from Regulated Qualification Unit Search.
How will this qualification be assessed?
Ongoing course assessment will apply. Each unit specification gives detailed information on the assessment criteria, assessment (evidence) requirements and guidance on instruments of assessment for the unit.
The qualification is assessed by completing a portfolio of evidence which details what the learner has completed at work. This can include evidence gathered through observation, witness testimony, project briefs and questioning. The assessor can work alongside the learner to confirm that they have met the requirements of the qualification and that they are therefore competent in their role.
The assessment process will ensure that the learner can complete the tasks that they have been directed to undertake and that they can interpret the instructions correctly. They will demonstrate that they can select the appropriate resources for the tasks and can complete them within the given timescales and specifications.
How to assess
Learner portfolio