Award in Emergency Paediatric First Aid SCQF level 6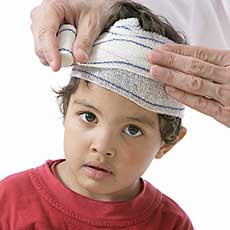 The Award in Emergency Paediatric First Aid at SCQF level 6 is designed to equip learners with knowledge and skills required to administer paediatric first aid and to assist in gaining employment in a childcare environment.
The Award develops basic skills in emergency paediatric first aid and focuses on the role and responsibilities of the paediatric first aider and knowing how to deal with emergency situations safely. In addition, it covers practical activities such as: providing first aid to a child who is unresponsive; providing first aid in choking situations; providing first aid to a child in shock; controlling external bleeding; and administering first aid for bites, stings and minor injuries.
COVID-19 Advice on future first aid training (26/05/2020)
The First Aid at Work Awarding Organisation Forum (FAAOF) has issued guidance in relation to the future delivery of first aid training.
COVID-19 Updated advice from HSE regarding certificate expiry extensions (26/05/2020)
The Health and Safety Executive (HSE) has issued updated advice regarding certificate expiry extensions until 30 September 2020.
COVID-19 advice
The First Aid Awarding Body Forum has provided advice on COVID-19 for first aid trainers/centres.
COVID-19: statement from HSE relating to certificate expiry
If requalification training is prevented for reasons associated directly with coronavirus or by complying with government advice, it is reasonable and practicable to extend the validity of current certificates by up to three months. Anyone taking advantage of this extension should be able to describe clearly their reasons for delaying requalification training, and demonstrate the steps they have taken to undertake training, if required.
This guidance comes into effect for certificates expiring on or after 16 March 2020. HSE will review this matter over the coming months and will issue further statements as necessary.
Use the tabs below to open each section individually. Alternatively you can show allhide all the sections.
Why deliver this qualification
The Award in Emergency Paediatric First Aid is a trusted qualification having been developed by The First Aid Awarding Organisation Forum and accredited by SQA Accreditation.
The Award in Emergency Paediatric First Aid is delivered in a minimum of six hours (excluding breaks) over a maximum of three weeks. Delivery sessions should be a minimum of two hours. The learner/trainer ratio is a maximum of 12/1.
A blended learning approach can be taken to the delivery of the award. However, the time taken to complete the course should not be reduced and a minimum of two-thirds of the training time (four hours) must be face-to-face.
Successful completion of this qualification would enable a learner to progress to the Award in Paediatric First Aid or to employment.
The achievement of GN0V 46, Award in First Aid at Work, is a prerequisite to the Award in Emergency Paediatric First Aid and will contribute towards its successful completion.
Who does this qualification suit
This qualification is suitable for those working with children, eg nursery and school staff, childminders, parent helpers.
It is also suitable for other learners who wish to develop their first aid skills further in the area of paediatric first aid.
Access
GN0V 46 First Aid at Work, or equivalent regulated qualification in first aid at work.
Progression
The Award in Emergency Paediatric First Aid may provide CPD/progression opportunities for those working in a childcare environment, for example, a nursery teacher, school teacher, classroom assistant, or childminder. It also provides progression to the Award in Paediatric First Aid at SCQF level 6.
Approval
Centers interested in offering this qualification require to come forward for approval and should contact SQA's Business Development Team for guidance.
Assessors and verifiers must be able to meet SQA's general requirements for technical/occupational competence as outlined in the Systems and Qualification Approval Guide. 
There are additional specific requirements for trainers, assessors and internal verifiers for the Award in Emergency Paediatric First Aid. These can be found in the Assessment Strategy and Guidance for the Award in Emergency First Aid.
How to assess
Each individual unit specification gives detailed information on learning outcomes and assessment criteria. There is also specific information provided on how certain assessment criteria should be assessed. The learner must achieve all of the assessment criteria in order to achieve the unit and ultimately the group award.
Where can you take this course?
Qualification content and delivery tools
Information about the qualification(s)
Qualification Structure
Group Award code: GP71 46 (1 SCQF credit point)
SCQF level: 6
The Award in Emergency Paediatric First Aid at SCQF level 6 consists of one mandatory Unit (1 SCQF credit point).
Assessment Strategy and Guidance
Information about delivery, assessment, quality assurance and support material
Qualification Verification Summary Reports
Assessment Principles for Regulated First Aid Qualifications
Support Materials