Award in First Aid at Work at SCQF level 6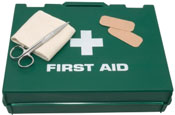 The Award in First Aid at Work at SCQF level 6 will develop knowledge and skills required to deal with a range of workplace first aid situations. Learners will specialise in:
Unit 1 - the roles and responsibilities of the first-aider; assessing an incident; providing first aid to an unresponsive casualty; providing first aid to someone who is choking; providing first aid to someone with external bleeding; providing first -aid to someone in shock; and providing first aid for minor injuries.

Unit 2 - conduct a secondary survey; provide first aid to a casualty with suspected injuries to bones, muscles and joints; provide first aid to a casualty with suspected head and spinal injuries; provide first aid to a casualty with suspected chest injuries; provide first aid to a casualty with burns and scalds; provide first aid to a casualty with an eye injury; provide first aid to a casualty with sudden poisoning; provide first aid to a casualty with anaphylaxis; and provide first aid to a casualty with suspected major illness.
This is a regulated qualification, which is recognised nationally.
The award comprises two units at SCQF level 6 covering the knowledge and skills listed previously:
Emergency First Aid in the Workplace (HV82 04)
Recognition and Management of Illness and Injury in the Workplace (HV83 04)
This qualification is available through SQA approved centres.
COVID-19 Advice on future first aid training (26/05/2020)
The First Aid at Work Awarding Organisation Forum (FAAOF) has issued guidance in relation to the future delivery of first aid training.
COVID-19 Updated advice from HSE regarding certificate expiry extensions (26/05/2020)
The Health and Safety Executive (HSE) has issued updated advice regarding certificate expiry extensions until 30 September 2020.
COVID-19 advice
The First Aid Awarding Body Forum has provided advice on COVID-19 for first aid trainers/centres.
COVID-19: statement from HSE relating to certificate expiry
If requalification training is prevented for reasons associated directly with coronavirus or by complying with government advice, it is reasonable and practicable to extend the validity of current certificates by up to three months. Anyone taking advantage of this extension should be able to describe clearly their reasons for delaying requalification training, and demonstrate the steps they have taken to undertake training, if required.
This guidance comes into effect for certificates expiring on or after 16 March 2020. HSE will review this matter over the coming months and will issue further statements as necessary.
Use the tabs below to open each section individually. Alternatively you can show allhide all the sections.
Why deliver this qualification
The Health and Safety (First Aid) Regulations 1981 require employers to provide adequate and appropriate equipment, facilities and personnel to enable first aid to be given to employees if they are injured or become ill at work.
This Award therefore has a wide potential market
Who does this qualification suit
The Award in First Aid at Work, SCQF level 6, is suitable for those who wish to undertake the role of first-aider in the workplace.
Access
Entry is at the discretion of the centre.
No specific prior knowledge is required to undertake this award.
Progression
The Award in First Aid at Work can provide progression to Award in Emergency Paediatric First Aid at SCQF level 6 (GP71 46) and Award in Paediatric First Aid at SCQF level 6 (GP72 46). There is overlap in some of the content of the awards.
Approval
This is a non-devolved qualification. All centres require SQA approval to deliver it.
Centres interested in coming forward for approval should contact SQA's Business Development Team for guidance.
Assessors and internal verifiers must be able to meet SQA's general requirements for technical/occupational competence as outlined in the Systems and Qualification Approval Guide (490 KB).
In addition, there are specific delivery requirements for trainers, assessors, internal verifiers and external verifiers for this group award. There are also specific delivery requirements in terms of facilities, resources, equipment; trainer/learner ratio and duration of delivery. These are set out in detail in the group award specification.
How to assess
The mandatory unit specifications provide detailed information on the learning outcomes and assessment criteria to be achieved as well as guidance on assessment.
SQA has developed assessment papers, practical scenarios and marking instructions.
Centres can also develop their own assessments and marking instructions. It is recommended that these are prior verified by SQA.
The award is internally assessed and is not graded.
Assessment can take place as final summative assessments towards the end of the course or at appropriate points in delivery as learners progress through the learning outcomes. Evidence of assessment can be presented in a format which best suits individual learners.
Knowledge-based assessment criteria can be assessed by, for example, short answer questions, verbal questioning or case studies. Some assessment criteria must be assessed through practical demonstration. The unit specifications identify what these are.
Learners should be aware when summative assessment is taking place. Formative assessment cannot be used for summative assessment purposes.
Where can you take this course?
Qualification content and delivery tools
Qualifications structure
Group award code: GN0V 46 (3 SCQF credit points)
The Award in First Aid at Work at SCQF level 6 consists of two mandatory units (3 SCQF credit points).
For further information on the structure and Units for this course please refer to the Qualification Structure (32 KB).
Group award specification
Assessment Principles for Regulated First Aid Qualifications
Support materials
The following materials are provided as exemplars only.  Centres are free to adapt these to suit their own needs and preferences.
Qualification Verification Summary Reports