Level 2 Certificate in Removal of Non-hazardous Waste (Construction)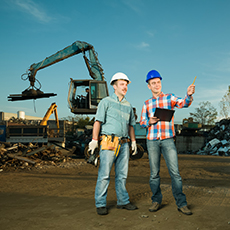 SQA code: GT4E 66
Ofqual code: 610/0389/X
Total Qualification Time: 300 hours
Guided Learning Hours: 146 hours
Credit value: 30
This qualification covers the following areas:
installing, maintaining and removing work area protection and safety equipment in the workplace
removing non-hazardous waste in the workplace
conforming to general health, safety and welfare in the workplace
conforming to productive working practices in the workplace
moving, handling and storing resources in the workplace
This qualification may be available through employers, training providers and colleges, and may be offered in England and Wales.
Use the tabs below to open each section individually. Alternatively you can show allhide all the sections.
Rationale and purpose of this qualification
The primary purpose of this qualification is to confirm the learner's occupational competence as a non-hazardous removal operative. As a work-related, competence-based qualification, it provides confirmation to employers, industry managers and card schemes that learners have the skills and knowledge needed to meet the nationally recognised standard to carry out the role.
This qualification is aimed at those who are employed and are looking for recognition of their prior learning and experience in their chosen industry.
Learners can build on the skills and knowledge gained from achieving this qualification when they are working towards achieving another qualification or in employment.
This qualification will provide learners with evidence of their experience based on accepted and recognised industrial practices. It will provide a basis for advancing in the industry for a range of potential learners.
Objectives
The qualification is designed to meet the following objectives:
supporting a role in the workplace
confirming knowledge, understanding and skills
providing access to a relevant card scheme
Recognition
This qualification is supported by the Construction Skills Certification Scheme (CSCS).
CSCS provides a registration card scheme acknowledged by industry for those involved in construction. The scheme recognises skills, knowledge and understanding, competence and qualifications.
What does this qualification cover?
As this is a competence-based qualification, learners will be acquiring the knowledge and skills required through either on-the-job experience or in a learning environment.
To achieve the whole qualification, learners need a minimum of 30 credits. They must complete five mandatory units from the qualification structure.
Who is this qualification for?
This qualification is suitable for:
people in employment who wish to enhance their career prospects
individuals who wish to start their own business
school and college students with a part-time job that enables them to develop the appropriate skills in the workplace
full-time and part-time study
There are no specific skills, knowledge understanding or any other qualifications that must be achieved to start this qualification. However, learners must have the potential and opportunity to gain this qualification successfully.
Entry
This qualification is mainly taken by individuals employed in areas within construction that deal with non-hazardous waste.
Progression
Learners may progress from the Level 2 certificate in Removal of Non-hazardous Waste (Construction) to a range of similar qualifications at Level 2 and above.
Deliver this qualification
Thinking of working with us?
Existing customer?
Where can you take this course
Qualification structure
How to assess
Learner portfolio
Assessment strategy/principle