Becoming an SQA marker - Tina's story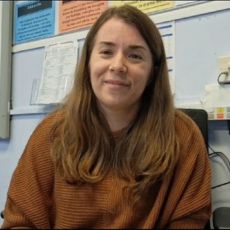 Our markers perform a role which is vital to the success of the exam diet. They ensure that candidates' answers to the exams they sit are marked to a national standard, and within a specified timeframe.
Before Drama teacher Tina, based in Aberdeen, was even out of her probationary year, she knew she wanted to get involved with marking the moment she was given the chance. She shares her experiences and advice to teachers considering becoming a marker.
Why did you apply to become an SQA marker?
When I was a probationer, my Faculty Head and mentor was a Team Leader for Higher Drama at the time. She was so knowledgeable, and I looked up to her immensely. When coming to the end of my probationary year, the biggest piece of advice she gave was, 'As soon as you are able to become a marker for the level you really want to learn, it's the best CPD that will not only help you, but also your pupils immensely'. She was not wrong.
How did you find the process to become a marker once you were recruited?
It was beneficial. Before the marking period begins, there is usually an all-day markers meeting, either online or in person. At this meeting, you will be taught how to 'apply the standard', which in layman's terms is how to mark the component you have signed up for.
I teach Drama where there are two main components - practical and written. For the written element, at the meeting you will be assigned a Team Leader who is your point of contact and means of support throughout the marking period. Do not be afraid to ask questions, there is no such thing as a silly question.
How did you feel when you received your first exam scripts (QPs) to mark?
When I started marking in 2010, the exam scripts (QP) were delivered to your house and when three massive parcels arrived, there was a mixture of emotions. I was excited as I love a new challenge, but I was nervous. However, I made sure I had set enough time aside to mark over the two-week time frame; I knew if I was unsure about a script (QP) then I could phone my Team Leader to talk things through and for support.
Nowadays, everything is online and communication with your Team Leader (TL) is even easier. If you are struggling with a script (QP), then you can send your TL an email with the script (QP) attached for them to look at. Additionally, your TL is constantly quality assuring your marking. This will give you instant feedback to allow you to realign your thinking or give you a confidence boost when you are on the right track. After my first year of marking, I loved it.
How has being an SQA marker benefitted you?
I have become a more confident teacher as I have a better understanding of what the standard is and how to apply it, which I can then pass onto my pupils who also benefit.
I have managed to create new resources and lessons for my pupils. For the practical element of our course, being a Visiting Assessor (VA), I have seen many new exciting texts performed, directed and designed. This has given me a wider range of texts that I can use, allowing pupils to connect with texts that suit their strengths, which in turn improves marks.
Advice to those considering becoming an SQA marker
Do it – it's the best form of CPD to learn your subject. It will not only genuinely help develop your teaching, but it is also a brilliant means of networking. You get the opportunity to meet and speak to other teachers from around Scotland, form relationships and create a supportive network.
SQA has opportunities for markers across all subjects and levels, and full training will be provided. For further information and to apply, you can visit our website or contact us with queries.