HNC/HND in Counselling at SCQF level 7 and 8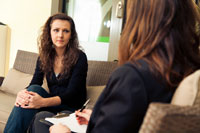 Higher National Qualifications provide practical skills and theoretical knowledge that meet the needs of employers.
The HN Certificate in Counselling (SCQF level 7) develops the learner's knowledge and understanding of counselling theories and skills with the opportunity to apply skills in classroom environments in simulated situations.
The HN Diploma in Counselling at SCQF level 8 has been developed in partnership with the British Association of Counselling and Psychotherapy (BACP). Learners develop professional counselling skills through supervised practice with clients. They also find out how their knowledge of the importance of contractual relationships and ethical and regulatory frameworks can be integrated into their practice.
This qualification is available through colleges.
Typically, an HNC takes one year to complete and an HND takes two years.
Use the tabs below to open each section individually. Alternatively you can show allhide all the sections.
Why deliver this qualification
Higher National Qualifications have been developed by SQA in partnership with colleges, universities and industry — so employers recognise that they provide sound evidence of ability.
The HN Diploma in Counselling is also suitable for commercial marketing as it is designed as a professional qualification.
Being jointly certificated by SQA and BACP allows learners the opportunity to access the BACP Register which is accredited by the Professional Standards Authority.
Learners who exit the qualification after year 1 can be awarded the HNC in Counselling provided they have successfully completed the necessary 12 HN credits.
The unit-based structure supports flexibility. A unit is typically 40 hours of timetabled learning. There is a wide choice of optional units which will enable centres to offer courses tailored to meet local needs.
Who does this qualification suit
The full HN Diploma is designed specifically for those who wish to enter the counselling profession and gain access to the professional register held by the British Association for Counselling and Psychotherapy (BACP).
Access
As with all SQA qualifications, entry is at the discretion of the centre.
It must be noted that as the HN Diploma includes client work there are additional entry requirements in place to ensure both client and learner safety.
The approved centre is required to evaluate the learner's potential to develop the relevant attributes against mandatory criteria set out in the group award specification. Prospective learners should contact the centre directly for further details.
Examples of formal entry qualifications include:
appropriate groupings of National Units (including for example, Counselling Theory for Practice: an Introduction at SCQF level 6)
any two National Qualifications at Higher together with three National 5 passes
an SVQ at Level 2 or 3 in a relevant area
relevant work or volunteering experience
Different combinations of relevant National Qualifications, vocational qualifications and equivalent qualifications from other awarding bodies may also be acceptable.
Progression
Learners who achieve the HN Diploma in Counselling may be able to progress to higher education or employment.
Approval
All centres interested in offering the HN Diploma in Counselling are required to come forward for approval and should contact SQA's Business Development Team for guidance.
Assessors and verifiers must be able to meet SQA's general requirements for technical/occupational competence as outlined in the Systems and Qualification Approval Guide.
There are specific and mandatory delivery, assessment and verification requirements that must be met to gain approval. These are set out in the group award specification.
How to assess
Each unit specification gives detailed information on the evidence requirements and approaches to assessment for the unit.
As the course embeds the BACP code of practice, centres must be aware of the facilities and resources necessary to offer this online assessment.
Ongoing course assessment will apply.
Assessment/e-assessment support packs are available for this qualification.
Where can you take this course?
Qualification Structure
HN Diploma in Counselling at SCQF level 7
Group award code: G8H6 15 (96 SCQF credit points)
The Certificate will be awarded upon successful completion of 12 SQA HN credits (96 SCQF credit points).
(Candidates who exit after year 1 may achieve the HNC in Counselling, dependent on the successful completion of the required credits.)
HN Diploma in Counselling at SCQF level 8
Group award code: GM4H 16 (240 SCQF credit points)
The Diploma will be awarded upon successful completion of 30 SQA HN credits (240 SCQF credit points) including the mandatory BACP CoP unit.
(Candidates who exit after year 1 may achieve the HNC in Counselling, dependent on the successful completion of the required credits.)
Group Award Specification