NPA Administration: Office Skills and Services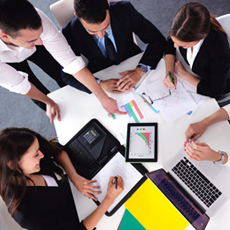 The National Progression Award (NPA) in Administration: Office Skills and Services at SCQF level 5 is designed as a programme which will provide candidates with theoretical knowledge and also allow them to have hands on experience of key pieces of office equipment, develop communication skills with internal and external customers and improve skills in locating, retrieving and presenting required information.
The qualification structure and Unit content provides a vocational and relevant curriculum which creates and promotes effective articulation and transition into further and higher education, whilst simultaneously recognising and supporting skills for industry and future employment including the soft skills demanded by employers.
This qualification is available through schools and colleges.
Use the tabs below to open each section individually. Alternatively you can show allhide all the sections.
Why deliver this qualification
The structure of the NPA in Administration: Office Skills and Services allows centres a high degree of flexibility in the delivery. The qualification can be offered:
in a practical setting which could either be within the candidate's current place of employment, a placement scenario or within a simulated practical learning environment in a presenting centre
as a full-time short programme, day release, or evening class
using a combination of delivery styles. For example, candidates may want to study on a half-day/evening basis or combine evening (or day release) study with some distance/open/online learning provision.
Some features of the NPA are:
it is nationally recognised
it appeals to a wide variety of potential candidates
Who does this qualification suit
It is envisaged that the following groups would be targeted:
school leavers
adult returners
employees wishing to enhance their qualifications
potential students looking for access to HN
full-time students looking for 'added value'
migrant workers
Progression
Some centres may consider candidates who have successfully completed both this NPA and the NPA in Administration: Information and Technology and Audio for progression onto an HN in Administration and Information Technology or alternatively into the Professional Development Awards in IT in Business and Administration at SCQF level 7.
Possible career opportunities could include:
Administrative Assistant
Office Junior/Receptionist
Clerical Assistant
Access
While entry is at the discretion of the centre, candidates would benefit from some previous work experience in administration.
Approval
Centres with devolved authority are eligible to seek approval through their own internal approval process.
Centres without devolved authority will have to come forward for approval and should contact the Business Development Team for guidance in completing the combined CA1/SA1 form.
Assessors and verifiers must be able to meet SQA's general requirements as outlined in the guide to approval.
How to assess
Centres can choose the order to teach and assess the Units, according to their local market needs and resources. It may be beneficial to have two or three Units taught at the same time to allow integration of teaching and assessments.
The Units are practical and assessment will be a combination of assessment of practical tasks and closed book assessments. It is recommended that centres refer to the evidence and assessment requirements for each Unit.
Assessment Support Packs are available on SQA's website for all three Units which will reinforce the practical aspect of the Unit specification, as well as setting a common standard across centres.
Where can you take this course?
Qualification content and delivery tools
Qualification structure
Group Award code: G9CF 45 (18 SCQF credit points)
NPA in Administration Office Skills and Services at SCQF level 5 (178 KB)
Structure
Candidates must complete all three Units below to achieve the NPA at SCQF level 5
Front of Office Skills — F59P 11
Central Services — F59S 11
Researching and Preparing Presentations — F5A0 11
Offer this qualification