Health and Food Technology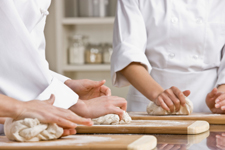 Our Health and Food Technology qualifications provide opportunities to study the relationships between health, nutrition, the functional properties of food, lifestyle choices and consumer issues. These Courses develop an awareness of informed food and dietary choices that can have a positive effect on the health of learners and enable them to advise others. Learners also develop a range of skills and applications of food preparation techniques.
Available at the following levels:
See also:
Health and Food Technology common questions
Where can you take this course?