PDA British Sign Language Studies SCQF level 8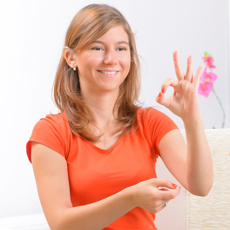 Professional Development Awards (PDAs) extend or broaden professional or vocational skills and are linked to National Occupational Standards.
The PDA in British Sign Language Studies at SCQF level 8 covers the following specialist skills/high-level transferable skills:
advanced level skills in signing using BSL at National Occupational Standard level 4 (SCQF level 8), Complex
professional skills, techniques and practices associated with communication in BSL
project and task management skills, self-management, self/peer review and evaluation, research and study skills/scholarly and academic processes
It consists of four mandatory Units that have been designed to provide a holistic approach to understanding British Sign Language, BSL linguistics and the culture and history of the deaf communities.
This qualification is available through training providers.
Use the tabs below to open each section individually. Alternatively you can show allhide all the sections.
Why deliver this qualification
The PDA in British Sign Language Studies at SCQF level 8 was initiated as a result of the Government's establishment of a Linguistic Access Working Group in 2000. The primary aim of this group is to improve access for deaf people so that they can fully contribute to a prosperous and dynamic Scotland.
This PDA helps employers to fill skills gaps and to provide continuing professional development for staff, while learners gain knowledge and skills needed for progression in the workplace.
Who does this qualification suit
It is intended for hearing and d/Deaf people and could be taken by people who use BSL as their first language or by those who have acquired BSL as an additional language.
The target audience is those in work, or seeking employment, who require a specific skill set. The PDA will be particularly relevant to: BSL tutors/teachers; communication support workers; interpreters/translators; social workers; health workers; and others in the public, private or voluntary sectors.
Access
Entry is at the discretion of the centre. To gain access to the PDA, learners should have:
qualifications at SCQF level 7 or equivalent experience
qualifications or equivalent competence at SCQF level 7 in BSL
communication skills at SCQF level 5 or equivalent
Progression
The Unit, British Sign Language: Complex embeds and further develops the Language NOS at level 4.
The PDA may provide progression to, for example:
employment as a social worker, communication support worker, classroom assistant, technician, reception and administration staff, or literacy tutor
Professional Development Awards in Teaching, eg PDA Teaching in Further Education: An Introduction (Advanced Diploma)
degree programmes in BSL and cultural studies
study and training programmes for BSL/English interpreters and translators
Approval
This is a non-devolved PDA because of the specialised nature of the qualification. All SQA-approved centres wishing to deliver the PDA must apply for specific approval to do so. Contact SQA's Business Development team for guidance on how to come forward for approval.
Assessors and verifiers must be able to meet SQA's general requirements for technical/occupational competence. Further detail can be found in the Arrangements Document under 'General Information for centres - Approval' and as outlined in the Guide to Approval.
How to assess
Each individual Unit specification gives detailed information on the Evidence Requirements and approaches to assessment for each Unit.
Assessment Support Packs including a range of video clips with signing are available on SQA's secure site.
Where can you take this course?
Qualification Structure
Group Award code: GE6Y 48 (459 KB) (48 SCQF credit points at SCQF level 8)
The PDA in British Sign Language Studies at SCQF level 8 consists of four mandatory Units that require a notional 240 hours of teaching time and 240 hours of learner-led input.
Group Award Specification