QCF Award in Maritime Studies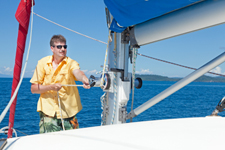 The level 2 Awards in Maritime studies have been developed by the Maritime Skills Alliance (MSA). They are suitable for people who are working or intending to work in the Maritime sector, to develop their skills and knowledge as deck: watch rating, able seafarer, tug/hand rating; or as a crew member on large yachts. These qualifications are also relevant for anyone who wishes to go to sea as they meet the basic safety training required for all seafarers.
| Qualification Title | Ofqual code | SQA code | QCF Level |
| --- | --- | --- | --- |
| Level 2 Award in Maritime Studies STCW Safety | | GC25 62 | 2 |
| Level 2 Award in Maritime Studies Deck Rating | | GC6K 62 | 2 |
Who does this qualification suit
The level 2 Awards in Maritime Studies are suitable for a wide range of learners including:
progression learners from basic maritime qualifications
employed learners who wish to enhance their career prospects
learners wishing to move from one sector of the maritime industry to another
Progression
These qualifications provide the opportunity to progress to further learning or more senior positions within the Maritime sector.
Approval
How to assess
The Awards are designed to be assessed in the workplace, or in conditions of the workplace. Assessment Guidelines and Units are available on SQA's secure website.
Where can you take this course?
Qualification content and delivery tools
Access
Access will be at the discretion of the Centre.
Qualification Structure
These qualifications require the learner to complete all mandatory Units within the specified Award.
For information on the structure of these qualifications, please refer to the Qualification Structure documents.
Level 2 Award in Maritime Studies STCW Safety
SQA Group Award Code: GC25 62
Ofqual Qualification Code: 600/2113/5
Level 2 Award in Maritime Studies STCW Safety Structure (68 KB)
Level 2 Award in Maritime Studies Deck Rating
SQA Group Award Code: GC6K 62
Ofqual Qualification Code: 600/1857/4
Offer this qualification