Food and Drink Operations (Production and Processing Skills)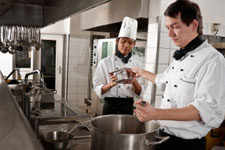 SQA offers Food and Drink Operations (Production and Processing Skills) at Level 2
Developed by Improve Ltd (changed to NSAFD (National Skills Food and Drink Academy)), the sector skills council for the food and drink manufacturing sector, the SVQ in Food and Drink Operations qualification is awarded in partnership with SQA and Improve (NSAFD), SQA and SFMTA (Scottish Federation of Meat Traders Association) or SQA and Scottish Bakers. It is available through employers and training providers.
The standards provide an accurate and detailed definition of what candidates must know, understand and be able to do. This SVQ will enable those working in this sector to develop the knowledge and skills required to demonstrate competence in their job role.
Use the tabs below to open each section individually. Alternatively you can show allhide all the sections.
Where can you take this course?
Qualification content and delivery tools
Information about the qualification(s)
Qualification Structure
National Occupational Standards
Core Skills signposting
Awarding partnership arrangements
GG4Y 22 in Food and Drink Operations (Production and Processing Skills) is jointly awarded with Improve.
Modern Apprenticeships
This SVQ is a mandatory component in the Level 2 Food and Drink Operations Modern Apprenticeship.
SQA also offers the following components of this Apprenticeship:
F426 04 - Core Skills: Communication SCQF level 4
F42N 04 - Core Skills: Working with Others SCQF level 4
F42J 04 - Core Skills: Problem Solving SCQF level 4
F42E 04 - Core Skills: Information and Communication Technology SCQF level 4
F42A 04 - Core Skills: Numeracy SCQF level 4
For further information on the Level 2 Food and Drink Operations Modern Apprenticeship please visit: http://improveltd.co.uk/scotland/frameworks-scotland
Information about delivery, assessment, quality assurance and support material
Assessment strategy
Assessor's guidelines
Candidate Guidance and Portfolio
Food and Drink Operations Support Packs
Offer this qualification