Certificate in Archaeological Practice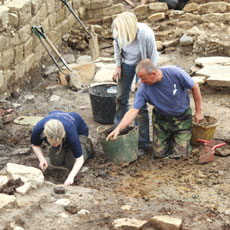 The NVQ Certificate in Archaeological Practice at QCF level 3 will develop knowledge and skills in areas such as archaeological processes, developing resources, and health and safety.
This qualification covers researching and analysing information to achieve objectives in archaeological operations; contributing to health and safety when conducting archaeological operations; understanding how to develop your own resources; and protecting the interests of others in archaeological operations.
This qualification is available through approved centres.
Purpose and Recognition
Why deliver this qualification
This qualification offers centres flexibility and choice because of the comprehensive range of optional Units.
Learners can progress to a range of courses at a higher level including Diploma in Cultural Heritage at Level 5, allowing centres to retain or build student numbers.
This Certificate in Archaeological Practice at QCF level 3 can be offered in any of the following modes:
full-time
part-time (eg day-release)
open and distance learning
infill into existing classes
evening provision
Who does this qualification suit
This qualification is suitable for a wide range of candidates including:
school leavers
adult returners to education
people in employment who wish to enhance their career prospects
individuals who wish to start their own business
Access
As with all SQA qualifications, entry is at the discretion of the centre.
Progression
Learners who have achieved the Certificate can progress to job roles relating to their chosen pathways.
They can also do further qualifications to build on their skills, such as a Foundation degree, HNC/D or a degree.
Approval
Centres will have to come forward for approval and should contact SQA's Business Development Team for guidance.
Assessors and verifiers must be able to meet SQA's general requirements for technical/occupational competence as outlined in the Guide to Approval.
How to assess
Ongoing course assessment will apply. Each Unit specification gives detailed information on the Evidence Requirements and approaches to assessment for the Unit.
Where can you take this course?
Qualification content and delivery tools
Qualification Structure
The NVQ Certificate in Archaeological Practice at QCF level 3 requires the learner to achieve a minimum of 22 credits by completing the four Mandatory Units (14 credits) plus a minimum of 8 credits from the Optional Units.
Group Award code: GK16 67 (22 QCF credit points)
Ofqual Qualification Code: 601/4925/5
For information on the structure of this qualification, please refer to the Qualification Structure.
Unit specifications and Assessment Guidance
Unit and Assessment Specifications and Assessment Guidance for these qualifications are available on SQA's Secure website. These are available from your centre's SQA co-ordinator. For further information, please contact mycentre@sqa.org.uk
Assessment Strategy
Offer this qualification