HN Customer Care units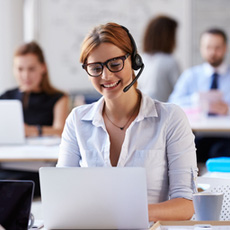 Customer service impacts on all occupational sectors — people may be working as sales staff, administrators, hotel and travel employees, line managers and team leaders, contact centre staff etc — in fact in any role that involves working with other people (ie external customers). Customer service is equally important when dealing with colleagues (ie internal customers). Examples of other sectors which demand good customer service are care, sports management, health and beauty, legal services, marketing and events, animal care, dentistry, police services and the automotive services.
The unit is part of a wide range of HN Group Awards including:
To support the development of effective customer service across all occupational sectors, there are HN Units in Customer Care available which develop skills in customer care, identifying areas for improvement and developing strategies for effective customer care in organisations.
Use the tabs below to open each section individually. Alternatively you can show allhide all the sections.
Who does this qualification suit
The HN Units in Customer Care are suitable for a wide range of candidates including:
school leavers
adult returners to education
individuals in employment who wish to enhance their career prospects
people who wish to start their own business
Access
As with all SQA Units and qualifications, entry for these Units is at the discretion of the centre. Examples of formal entry qualifications could include:
Communication and interpersonal skills at SCQF level 5
relevant work experience
Progression and employment
Candidates who achieve HN Units in Customer Care could progress to Customer Service Units at higher SCQF levels and full qualifications such as SVQs in Customer Service or HNC/HNDs across many occupational sectors.
Approval
Centres with devolved authority for approval should use their own internal approval process.
Centres without devolved authority will have to come forward for approval and should contact SQA¿s Business Development Team for guidance.
Assessors and verifiers must be able to meet SQA¿s general requirements for technical/occupational competence as outlined in the Guide to Approval.
How to assess
Each individual Unit specification gives detailed information on the Evidence Requirements and approaches to assessment for each Unit.
Ongoing assessment will apply.
Where can you take this course?
Qualification Structure
Assessment Exemplars
An Assessment Support Pack is available on the SQA's Secure website for Creating a Culture of Customer Care Unit - H1FO 34
In addition to the Assessment Support Pack for this Unit, there is a candidate workbook for this Unit on SQA's Secure website.