Level 2 Certificate Introduction to the Role of the Professional Taxi and Private Hire Driver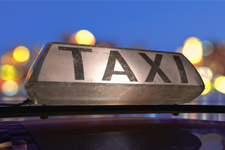 SQA code: GP4Y 54
Ofqual code: 603/3979/2
Qualification Wales code: N/A
Total Qualification Time: 160 hours
Guided Learning Hours: 82 hours
Credit value: 16
The Certificate in Introduction to the Role of the Professional Taxi and Private Hire Driver will provide learners with an appropriate mix of knowledge and skills to support their professional development in the role of a taxi or private hire driver, helping them to meet and adapt to the challenges they face on a daily basis.
It will develop essential knowledge in areas such as health and safety in the taxi work environment; vehicle maintenance and safety inspections; routes and fares; safe transport of passengers; luggage and parcels; providing a professional customer service, and an understanding of relevant licensing regulations that relate to the operation of taxi and private hire operations in England. Learners will also develop the skills necessary to support passengers who require mobility assistance or the use of a wheelchair.
This qualification may be available through employers, training providers and colleges, and may be offered in England.
Introduction of enhanced quality assurance arrangements from December 2019
SQA is implementing additional enhanced quality assurance arrangements for centres delivering the following Taxi Qualification:
Certificate in Introduction to the Role of the Professional Taxi and Private Hire Driver Level 2 SQA Group Award Code: GP4Y 54 Ofqual Group Award Code: 603/3979/2
Centres offering this qualification have a particular responsibility for the administration and conduct of assessments for the following reasons:
Centres are acting as agents of SQA and are responsible for ensuring that SQA rules regarding the conduct of assessments are applied consistently and fairly.
Centres must make sure that where the candidates are not known to the invigilator or supervisor that sufficient identity/security checks are carried out prior to the examination/assessment to ensure the candidate is who they say they are.
Full details of requirements can be found in the Qualification Quality Assurance Criteria, please review Appendix A - Enhanced guidance to centres on managing assessment conditions.
Centres delivering assessments for these qualifications must advise SQA a minimum of 5 working days prior to the assessment taking place by completing this form.
It is essential that you include the specific time that the assessment is taking place. No candidate information is required when completing the form.
Assessments can only take place if SQA has been notified. Failure to notify us could result in sanctions being imposed on your centre.
SQA reserves the right to undertake unannounced visits to ensure assessments take place in line with qualification requirements.
Use the tabs below to open each section individually. Alternatively you can show allhide all the sections.
Rationale and purpose of this qualification
The Certificate in Introduction to the Role of the Professional Taxi and Private Hire Driver at RQF level 2 has been developed for drivers who are already employed within the taxi and private hire industry, as well as for new entrants.
The qualification offers flexibility and choice, which is valued by learners and centres. Taxi and private hire drivers work varied shift patterns, so centres must be flexible with their teaching and assessment arrangements to accommodate this.
The qualification provides learners with an understanding of current legislation and good customer service. It develops and enhances the range of skills and techniques required to deliver high-quality services to the travelling public.
Objectives
The qualification is designed to meet the following objectives:
support a role in the workplace
confirm knowledge, understanding and skills
enable learners to gain the relevant licence to practise
What does this qualification cover?
As this is a knowledge-based qualification, learners will acquire the knowledge and skills required through either on-the-job experience or in a learning environment.
To achieve the whole qualification, learners need to achieve all 16 credits available from the nine mandatory units in the qualification structure.
Who is this qualification for?
This qualification is suitable for:
workers who need the qualification to meet local licensing requirements
workers wishing to progress into a supervisory position
people in employment who wish to enhance their career prospects
individuals who wish to start their own business
part-time study
There are no specific skills, knowledge, understanding or any other qualifications that must be achieved in order to start this qualification; however learners must have the potential and opportunity to gain this qualification successfully.
Entry
Entry to the qualification is at the discretion of the centre. Learners should be employed within the taxi and private hire driver industry (or be prospective employees).
Typically, learners will be over the age of 18 years old and have held a driving licence for a minimum of one year. Local licensing conditions may apply.
Progression
This qualification could lead to a career driving Hackney carriages or private hire vehicles.
Deliver this qualification
Thinking of working with us?
Existing customer?
Where can you take this course
Qualification structure
The qualification requires the learner to complete nine mandatory units (16 credits).
Please refer to the qualification structure (123 KB) for more information.
How to assess
This qualification is assessed by multiple-choice tests. Multiple-choice examinations are hosted on the SOLAR platform, SQA's e-assessment service.
Each test provides a broad assessment of the key principles and typical circumstances/situations that may face today's professional taxi drivers or private hire drivers.
Prior to sitting the multiple-choice tests, centres should ensure that learners have covered all knowledge and understanding required in each unit specification.
There is also a practical assessment for the unit Taxi and Private Hire: Mobility and Wheelchair Assistance. A checklist for this assessment is available as an appendix to the unit specification.
Further detail on the tests for this qualification is available in the Qualification Specification (201 KB)
Learner portfolio
Qualification Verification Summary Reports
SQA Connect Process
Update to SOLAR – SQA Connect process
Candidate data relating to this qualification is now automatically transferred between SQA Connect and SOLAR.
This means that – instead of having to enter candidate details on both SOLAR and SQA Connect – you will only have to enter candidates details once, on SQA Connect. The details are then automatically transferred to SOLAR.
Likewise, once candidates have completed the assessment on SOLAR, the results automatically pass to SQA Connect without the need for any further input from you.
Information is transferred between SQA Connect and SOLAR hourly – so you may need to wait up to an hour for updated candidate details to display on SOLAR, and for results to appear on SQA Connect.
What do I need to do?
You must use SQA Connect to enter candidates for this qualification, or to update any candidate details.
You must not create or update any candidate details directly in SOLAR, as this may result in errors processing the candidate's result.
Support
If you need support or information on SOLAR you can contact the Digital Services Support Helpdesk. There are several ways you can contact the team:
Our helpdesk is available from Monday to Friday between the hours of 9 am and 5 pm. Any breaks in this service will be noted in the 'Latest updates' section on the homepage of the SOLAR website.
If you need support on SQA Connect with regards to your candidate data, you can contact the Centre Support Team. There are several ways you can contact the team: