Level 2 Certificate in Maritime Studies: Engine Room Rating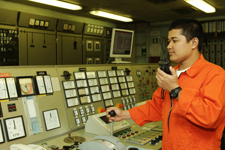 SQA code: GC7W 54
Ofqual code: 603/4892/6
Total Qualification Time: 267
Guided Learning Hours: 220
Credit value: 27
The Level 2 Certificate in Maritime Studies: Engine Room Rating will develop knowledge and skills in areas such as maritime employment, environmental and health and safety practice, survival in the water during maritime emergencies, vessel fire prevention and fire-fighting, and maritime security.
The Diploma also includes emergency first aid in response to maritime accidents or medical emergencies, safe operation of merchant vessel machinery systems, electrical safety on merchant vessels, and producing components using hand-fitting techniques.
This qualification may be available through employers, training providers and colleges.
Use the tabs below to open each section individually. Alternatively you can show allhide all the sections.
Rationale and purpose of this qualification
The Level 2 Certificate in Maritime Studies: Engine Room Rating is suitable for people who are working, or intending to work, in the maritime sector. It is aimed at those who have no prior experience of the sector.
Learners will develop their skills and knowledge as ratings in the engine room of a merchant vessel or tug to ensure the continuous running of machinery and equipment on board the vessel. They will learn to organise routine maintenance procedures and necessary repairs in the engine-room, on power plant and on auxiliary machinery.
The primary purpose of this qualification is to confirm the learner's occupational competence as an engine room rating. As a work-related, competence-based qualification it provides confirmation to employers and industry managers that the learner has the skills and knowledge needed to meet the nationally recognised standard to carry out the role.
Learners who achieve this qualification can use it to gain employment, to progress in the industry, or to work towards another qualification.
Objectives
The qualification is designed to meet the following objectives:
preparing learners for employment
preparing learners to progress to another qualification
meeting relevant programmes of learning
giving learners personal growth and engagement in learning
supporting a role in the workplace
confirming knowledge, understanding and skills 
Recognition
The qualification is intended for people in the maritime sector and has been developed in conjunction with the Merchant Navy Training Board and the Maritime and Coastguard Agency to ensure it is 'fit for purpose'.
What does this qualification cover?
As this is a competence-based qualification, learners will be acquiring the knowledge and skills required through either on-the-job experience or in a learning environment.
To gain the qualification, learners must complete eight mandatory units (credit value 27) from the qualification structure.
Who is this qualification for?
The Level 2 Certificate in Maritime Studies: Engine Room Rating is suitable for a wide range of candidates including:
school leavers
progression learners from basic maritime qualifications
adults returning to education
employed learners who wish to enhance their career prospects
unemployed learners who wish to enhance their job prospects
learners wishing to move from one sector of the maritime industry to another
Entry
Entry to the qualification is at the discretion of the centre. 
Progression
This qualification provides the opportunity to progress to further learning or more senior positions including that of bosun or senior rating (deck or engine room) on super yachts and other vessels that require limited certification.
Deliver this qualification
Thinking of working with us?
Existing customer?
Where can you take this course
Qualification structure
How to assess
Learner portfolio
Assessment strategy/principle