Level 3 Certificate in Archaeological Practice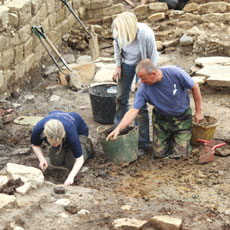 SQA code: GK16 67
Ofqual code: 601/4925/5
Total Qualification Time: 217
Guided Learning Hours: 167
Credit value: 22
The Level 3 Certificate in Archaeological Practice is ideal for those seeking employment in the archaeological sector. It will also be beneficial for individuals who have existing skills to gain a qualification which is accredited via a nationally recognised Level 3 qualification, in order to develop their own growth and engagement with archaeology.
The Level 3 Certificate in Archaeological Practice has been developed in partnership with Creative & Cultural Skills to ensure it meets the needs of the industry.
This qualification may be available through employers, training providers and colleges. It is currently offered in England.
Use the tabs below to open each section individually. Alternatively you can show allhide all the sections.
Rationale and purpose of this qualification
The qualification is aimed at those who have no prior experience of archaeological practice. Its primary purpose is to develop the learner's occupational competence as an archaeologist so that they can gain employment or work towards another qualification (see Progression).
This qualification delivers the underpinning knowledge needed to meet the nationally recognised standard for the role and so provides a sound basis for working in the industry.
Objectives
The qualification is designed to meet the following objectives:
preparing learners for employment
preparing learners to progress to another qualification
meeting relevant programmes of learning
giving learners personal growth and engagement in learning
preparing learners to progress to the next level of English or Mathematics
Recognition
The Level 3 Certificate in Archaeological Practice meets the requirements for membership of the Chartered Institute for Archaeologists (CIfA).
What does this qualification cover?
As this is a competence based qualification, it will be delivered primarily through on-the-job training.
To achieve the while qualification, learners need a minimum of 22 credits. They must complete 4 mandatory units, plus optional units to the credit value of 8.
This qualification covers:
research and analysis of archaeological operational objectives
health and safety requirements when conducting archaeological operations
how to develop resources and protect the interests of others
how to develop an understanding of personal capability and competence in the workplace, within the archaeological sector
The remaining optional units cover topics including:
the safe storage of items
the application of preventative care procedures
how to implement routine interventive conservation procedures
how to provide information of material remains of past communities
how to classify, compile and maintain data on material remains
how to contribute to intrusive investigations in archaeological operations
the safe transfer of archaeological items
Who is this qualification for?
The Level 3 Certificate in Archaeological Practice is the only vocational qualification currently available for archaeologists. It provides the skills and knowledge required for a career in the historic environment sector.
This qualification is suitable for:
learners with no prior experience
learners in employment who wish to enhance their career prospects
learners not in employment who wish to enhance their career prospects
apprentices
school leavers
adults returning to education
degree level academics who wish to acquire the vocational skills and knowledge required by employers in the sector
would-be archaeologists who are unable, or do not wish, to study at university
volunteers within an archaeological environment who wish to achieve the qualification in order to enhance your employment prospects.
Entry
Although there are no formal entry requirements for this qualification, it is likely that learners will either already be working or volunteering in the archaeology sector. Alternatively, learners should have an appropriate level of knowledge and communication skills to meet the requirements of the qualification.
Progression
Learners may progress from the Level 3 Certificate in Archaeological Practice to a range of qualifications at a higher level, including a degree or post-graduate programme. Successful achievement of this Certificate can also lead to employment in a variety of job roles within the archaeological industry, including as a:
archaeologist
historic environment record archaeologist;
planning/development control archaeologist
community archaeologist
finds or museum archaeologist
Deliver this qualification
Thinking of working with us?
Existing customer?
Where can you take this course
Qualification structure
How to assess
Learner portfolio
Assessment strategy/principle