Hospitality and Tourism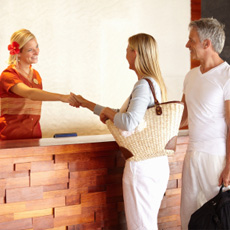 Within this sector SQA has produced SVQs in the following areas, for further information on each qualification please follow the appropriate link:
Important information: As of 1 September 2016, all SVQs with an established SCQF level no longer include the SVQ level in their titles. Please note that our web pages and documents will gradually be updated over time as the SVQs are reviewed, so may still contain the existing titles. More information on SCQF levels can be found on our SCQF web page.
News and Announcements
Extension of the SVQ in Hospitality Management Skills SCQF level 8
We are pleased to announce that the accreditation period of the SVQ in Hospitality Management Skills at SCQF level 8 has been extended to 31.01.2020.
Re-accreditation of SVQs at SCQF Levels 4-7
We are pleased to confirm that the suite of SVQs at SCQF levels 4-7 (including Hospitality Supervision and Leadership) has now been re-accredited. In addition the current SVQs have been extended to 31 August 2017 to allow time for transition to the revised qualifications.
Assessment of Behaviours
Following an Awarding Body Forum meeting with Skills CFA and discussions with SQA's Accreditation department regarding the assessment of behaviours in the SVQ Management units, we have been advised that while it is desirable that candidates demonstrate the appropriate behaviours through their performance, the behaviours themselves do not need to be assessed.
The position with regard to assessment of behaviours in the SVQ Hospitality units has been reviewed and we can confirm that, with immediate effect, there will be no longer a requirement to formally assess behaviours. However, the candidate recording forms for the SVQ Hospitality units will remain unchanged to allow you to continue to record when candidates have been observed adopting the appropriate behaviour if desired.
SVQ 4 Hospitality Management Skills SCQF level 8
We are please to confirm that the new SVQ 4 Hospitality Management Skills SCQF level 8 has now been accredited. The start date of the qualification is 01 March 2013 and the lapse date is 31 January 2018.
The National Occupational Standards (NOS), structure and evidence requirements are available in the Information about the qualification(s) section of the qualification page see link above.
The SVQ 4 Hospitality Management Skills contributes to the Technical Apprenticeship in Hospitality Management Skills at SCQF level 8. The following link will take you to the Apprenticeship framework documents on People 1st's website:
Offer this qualification