Hospitality Management Skills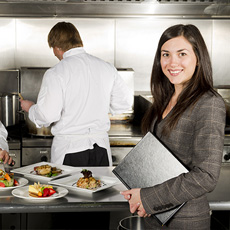 The Scottish Vocational Qualification (SVQ) 4 in Hospitality Management Skills at SCQF level 8 can provide a clear progression route for candidates who have reached supervisory level in the hospitality industry or have completed qualifications at SCQF Level 7 and above in Hospitality in further and higher education. It will offer both the existing workforce and new entrants the opportunity to progress into management roles in the hospitality industry.
This qualification is available through employers and training providers
Use the tabs below to open each section individually. Alternatively you can show allhide all the sections.
Why deliver this qualification
The SVQ in Hospitality Management Skills at SCQF level 8 is an addition to the existing suite of SVQs in Catering, Hospitality and Professional Cookery.
The SVQ is designed to be assessed in the workplace, or in conditions of the workplace in any aspect of the industry, or as part of a Realistic Working Environment (RWE) within a centre. Criteria for RWE are set out in the assessment strategy developed by the Sector Skills Council, People1st. The assessment strategy is available on the SVQ Hospitality subject page.
Who does this qualification suit
This SVQ is suitable for candidates who are working at senior levels in a range of sub sectors and job roles, such as Heads of Departments, Kitchen Managers, Head Chefs, Accommodation Managers, Executive Housekeepers, and Food and Beverage Managers, as well as managers in small businesses and owner operators.
Access
Entry is at the discretion of the centre. This is a work-based qualification, so candidates should be in a job role that enables them to provide the required evidence in a working environment.
Progression
SVQ in Hospitality Management Skills at SCQF level 8 could provide progression to:
Management and leadership roles in the hospitality sector, including marketing and retail.
Approval
Centres with devolved authority for approval should use their own internal approval process.
Centres without devolved authority require to come forward for approval and should contact SQA's Business Development Team for guidance.
Assessors and verifiers must be able to meet SQA's general requirements for technical/occupational competence as outlined in the Systems and Qualification Approval Guide.
Centres should pay particular attention to the requirements set out in the assessment strategy if operating qualification via an RWE.
How to assess
The SVQ in Hospitality Management Skills at SCQF level 8 is an occupational qualification whose purpose is to assess a candidate's competence. In each unit there are performance criteria that describe what the candidate must be able to do in a real work environment.  It is expected that evidence for this SVQ will be generated from real work activity in a hospitality workplace. In some circumstances, evidence of the candidate's performance can come from a Realistic Working Environment (RWE). However, RWEs must meet the guidance provided in the Assessment Strategy.
Methods of assessing this SVQ include:
observation
products of work
personal statement
witness testimony
professional discussion
questioning
reflective account
Where can you take this course?
Qualification content and delivery tools
Information about the qualification(s)
Qualification Structure
National Occupational Standards
Core Skills signposting
Leaflets
Information about delivery, assessment, quality assurance and support material
Assessment strategy
Assessor's guidelines
Hospitality Management Skills at level 4 Assessor guidelines
| | |
| --- | --- |
| Level: | 4 |
| Publication: | DB6082 |
| Edition: | April 2013 |
| Downloads: | |
Qualification Verification Summary Reports
Qualification Verification Summary Reports were formerly known as Internal Assessment Reports.
Evidence requirements (if applicable)
Apprenticeships
This SVQ is a mandatory component in the Level 8 Technical Apprenticeship in Hospitality Management Skills. 
SQA also offers the following components of this Apprenticeship:
Careers Skills Units
G8YA 46 - Scottish Certificate for Personal Licence Holders*
F4TL 34 - Food Hygiene Intermediate*
Foreign Language at SCQF Level 5*                        
*Optional
Useful Links
Offer this qualification
Useful Links