Management and Leadership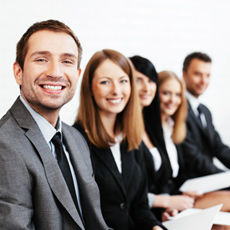 The HN awards in Leadership and Management provide recognised qualifications that are understood and respected by employers across many industry sectors. They provide the educational and experiential background that employers demand.
These qualifications contain both theoretical and practical units. The theoretical units underpin the knowledge required to gain employment and allow progression to further academic and/or professional qualifications.
Explore our Leadership and Management qualifications leaflet (278 KB)
The HNC in Management and Leadership (SCQF level 7) covers management principles for those gaining their first experience of management or for those who aspire to become managers in the near future. Key areas covered include: self-development; management and leadership skills; managing and working with others; planning/implementing change; managing operational resources; and customer care.
The Diploma in Management and Leadership (SCQF level 8) builds on these principles and provides strategic competences for future career and personal development in managerial and leadership activities.
Qualifications in Management and Leadership
These awards are jointly certificated by SQA and Chartered Management Institute (CMI).
These qualifications are available through colleges and typically, the HNC takes one year to complete and the diploma takes two years.
PDAs in Management and Leadership
SQA offers a range of Professional Development Awards (PDAs) in Management and Leadership from SCQF level 6 to 11. These are short, focused awards, each made up of two units and jointly certificated by SQA and CMI.
Visit our PDAs in Management and Leadership page
Deliver this qualification
Centres with devolved authority for approval should use their own internal approval process.
Centres without devolved authority require to come forward for approval and should contact SQA's Business Development Team for guidance.
Assessors and verifiers must be able to meet SQA's general requirements for technical/occupational competence as outlined in the Systems and Qualification Approval Guide.
Where can you take this course?
Centre Support
Internal Assessment Reports
Where can you take this course?