Who we are
Based in Scotland, we work across the UK and internationally. Our people take great pride in offering exceptional customer service — which is acknowledged by government organisations, universities, businesses and individuals throughout the world. SQA is sponsored by the Scottish Government's Learning Directorate and employs over 900 people in Glasgow, Dalkeith and Newtongrange.
Our organisation structure
Our strategic direction is developed by our Board of Management and its committees. It is approved by Scottish Ministers. The Board is corporately responsible for its implementation.
Corporate Plan
Our Corporate Plan sets out our objectives for the next three years.
Board of Management
Approved by Scottish Ministers, our Board of Management develops and shapes our strategic direction.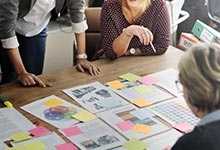 Executive Team
The SQA Executive Management Team manages and carries out the development and delivery of qualifications.
Advisory Council
Made up of teachers, parents and education professionals,the Advisory Council helps us develop our portfolio.
SQA response to Professor Muir consultation on education reform – November 2021
Our response to Professor Ken Muir's consultation on the future shape of Scotland's national education agencies is forward-looking and identifies opportunities and sets out how, with the right investment, expertise and resources, these can be realised.
Until a replacement organisation is established, we will continue to work to fulfil our statutory functions and deliver for Scotland's learners. This includes delivery of exams and other assessments to schools, colleges, employers and training providers in 2022, which learners can have pride in, and which universities, colleges and employers can have confidence in.