HND Dental Nursing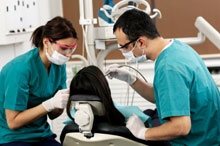 Higher National Qualifications provide practical skills and theoretical knowledge that meet the needs of employers.
The HND in Dental Nursing (SCQF level 8) develops advanced knowledge and skills in areas such as dental impression taking, research, oral health promotion, managing quality improvement, and health and safety.
This qualification also focuses on clinical skills such as providing special care dental nursing, sedation, and radiography.
This qualification is available through colleges and training providers. Typically, an HND takes two years to complete full-time or four years part-time.
Use the tabs below to open each section individually. Alternatively you can show allhide all the sections.
Alternative assessment guidance
This subject will not have alternative assessment guidance for session 2023-24. You should refer to the Group Award/Unit specifications for detailed delivery and assessment information. For general support on delivery and assessment see the HNVQ assessment guidance 2023-24.
Why deliver this qualification
Higher National Qualifications have been developed by SQA in partnership with colleges, universities and industry ¿ so employers recognise that they provide sound evidence of ability.
The unit-based structure supports flexibility. A unit is typically 40 hours of timetabled learning.
There is a tailored choice of optional units designed to allow learners to develop advanced professional attitudes and practice to help progress their careers in the dental sector.
Who does this qualification suit
The HND is suitable for a wide range of learners including:
those who wish to seek employment and a career in dental nursing
qualified dental nurses in employment who wish to develop 'additional' and 'prescribed additional' dental nursing skills which are listed within the General Dental Council (GDC) Scope of Practice for dental nurses
dental care professionals who wish to access the individual units for CPD purposes
returners to work who wish to upskill or refresh their existing dental nursing skills
Access
Access to the HND is at the discretion of individual SQA-approved centres. However, as these are advanced qualifications with recognised levels of demand it is recommended that learners have a good level of general education. This may be demonstrated through a pre-assessment interview or by a learner's existing qualifications, for example: science-based units, Mathematics and English qualifications at SCQF level 5 (or other equivalent qualifications), or the NC in Oral Health Care: Preparing for Practice at SCQF level 6.
Learners who wish to seek direct access to year 2 of the HND should have already completed the following qualifications (or their equivalent):
SVQ 3 in Dental Nursing at SCQF level 7 and the PDA in Dental Nursing at SCQF level 7 (the registrable qualifications)
or
the HNC in Oral Health Care: Dental Nursing
or
the NEBDN National Certificate
or
relevant qualifications from another awarding body
There is also scope for accreditation of prior learning (APL); for example, where learners have already completed individual units from the group award or where learners are registered with the GDC via the 'grandparent clause'.
APL is at the centre's discretion and centres should note that evidence of APL is subject to external verification by SQA.
All learners will require to achieve the HNC Graded Unit 1, regardless of the access route used.
See the group award specification for details.
Progression and employment
Learners who achieve an HND in Dental Nursing may progress to a degree programme in a related subject; for example, the BSc in Dental Nursing awarded by the University of the West of Scotland. However, this is at the discretion of the receiving centre.
Approval
Centres interested in offering this qualification should come forward for approval Please contact SQA's Business Development Team for guidance.
Assessors and verifiers must be able to meet SQA's general requirements for technical/occupational competence as outlined in the Systems and Qualification Approval Guide.
The HND contains SVQ units. These must be delivered and assessed within the requirements of the Skills for Health Assessment Strategy for Dental Nursing.
In addition, staff involved in the delivery and assessment of the HN Dental Nursing and Oral Health Care units must be GDC registrants with experience in dental nursing.
How to assess
Each unit specification gives detailed information on the evidence requirements and approaches to assessment for the unit.
Ongoing course assessment will apply.
Assessment/e-assessment support packs are available for this qualification.
Where can you take this course?
Qualification Structure
HND in Dental Nursing
Group award code: GP80 16 (240 SCQF credit points)
This HND at SCQF level 8 consists of 20 mandatory SQA HN Credits (160 SCQF credit points) with a minimum of 10 SQA HN credits (minimum 80 SCQF credit points) to be selected from the optional section.
Group Award Specification
Qualification Verification Summary Reports
Example Log and Record Sheets
HND Dental Nursing GC7T 16
Dental Radiography: Operator
Dental Nursing: Intravenous Sedation
Dental Nursing: Orthodontics
Dental Nursing: Inhalation Sedation
Other Information
It is essential that candidates are fully aware that the awarding of the HNC Oral Health Care: Dental Nursing will neither in itself allow successful candidates to register with the General Dental Council (GDC) as a dental nurse nor will it confer the status of qualified 'dental nurse' in terms of registration with the General Dental Council.
Centres must ensure that any Units offered as part of the HND which state that the candidate should be registered with the GDC are only delivered to those learners who have that status.
It is contingent on the candidate to be GDC registered to complete the HND.