Food and Drink Operations (Dairy Skills)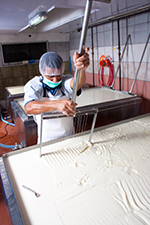 The Scottish Vocational Qualification (SVQ 2) Food and Drink Operations (Dairy Skills) at SCQF level 5 develops the skills and knowledge in food safety and maintaining the workplace that are required when working in dairies or farm shops and cafes.
The skills covered range from producing milk, butter, cream, ice cream and cheese; to accurately weighing, measuring and mixing ingredients; to customer service and processing customer orders.
Developed by Improve Ltd (changed to NSAFD (National Skills Food and Drink Academy)), the sector skills council for the food and drink manufacturing sector, the SVQ in Food and Drink Operations qualification is awarded in partnership with SQA and NSAFD, SQA and SFMTA (Scottish Federation of Meat Traders Association) or SQA and Scottish Bakers. It is available through employers and training providers.
This SVQ must be assessed in the workplace, so is only suitable for individuals employed in the food industry.
Use the tabs below to open each section individually. Alternatively you can show allhide all the sections.
Why deliver this qualification
The SVQ 2 in Food and Drink Operations (Dairy Skills) at SCQF level 5 is a new course for the growing food and drink manufacture sector. It has two mandatory Units and 44 optional Units so it can be tailored to match many different business needs.
Candidates can progress to a range of courses — allowing centres to retain or build student numbers. For example, candidates can progress to a higher level with SVQ 3 Food and Drink Operations at SCQF level 6 or SVQ 3 Food and Drink Operations: Food Manufacturing Excellence at SCQF level 6.
The SVQ can be offered in any of the following modes:
Who does this qualification suit
This SVQ is suitable for:
individuals who are currently in employment and who wish to obtain a formal qualification
employers who wish their employees to take a course for continuing professional development
Access
Entry is at the discretion of the centre.
No prior qualifications are required to undertake this qualification, although experience or knowledge of the dairy sector would be an advantage.
Progression
The level SVQ 2 at SCQF 5 could provide progression to:
SVQ 3 Food and Drink Operations at SCQF level 6
NPA Food and Drink Manufacture at SCQF level 6
HNC Food Science and Technology SCQF level 7 or Management/Leadership
degree level study at a higher education institution
career development employment in the food (dairy) sector
Approval
Centres with devolved authority for approval should use their own internal approval process.
Centres without devolved authority require to come forward for approval and should contact SQA's Business Development Team for guidance.
Assessors and verifiers must be able to meet SQA's general requirements for technical/occupational competence as outlined in the Systems and Qualification Approval Guide
How to assess
Assessment of this award will be through a series of theoretical and practical assessments or tasks. Some assessments will be carried out under supervised open-book conditions, others under supervised closed-book conditions.

The assessment strategy does not allow workplace simulation. The assessment requirements are detailed in Improve's Assessment Strategy 2013 (356 KB) and SQA's Assessment Guidance (741 KB) for this award.
Where can you take this course?
Qualification content and delivery tools
Information about the qualification(s)
Qualification Structure
National Occupational Standards
Core Skills signposting
Awarding partnership arrangements
GG4T 22 is jointly awarded with NSAFD.
Modern Apprenticeships
This SVQ is a mandatory component in the Level 2 Food and Drink Operations Modern Apprenticeship.
SQA also offers the following components of this Apprenticeship:
F426 04 Core Skills: Communication SCQF level 4
F42N 04 Core Skills: Working with Others SCQF level 4
F42J 04 Core Skills: Problem Solving SCQF level 4
F42E 04 Core Skills: Information and Communication Technology SCQF level 4
F42A 04 Core Skills: Numeracy SCQF level 4
For further information on the Level 3 Food and Drink Operations Modern Apprenticeship please visit: http://improveltd.co.uk/scotland/frameworks-scotland
Information about delivery, assessment, quality assurance and support material
Assessment strategy
Assessor's guidelines
Candidate Guidance and Portfolio
Offer this qualification