SVQ Dental Nursing SCQF level 7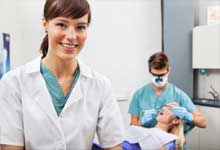 The Scottish Vocational Qualification (SVQ) in Dental Nursing will enable those working as dental nurses or trainee dental nurses, to develop the knowledge and skills required to demonstrate competence in their job role. This SVQ is based on standards developed by the sector skills council, Skills for Health. This SVQ is a recognised qualification which can be used towards registration with the General Dental Council (GDC).
This qualification is available through colleges and training providers.
Supplementary guidance for SVQ Dental Nursing approved centres to support learners impacted by the COVID-19 pandemic
Use the tabs below to open each section individually. Alternatively you can show allhide all the sections.
Why deliver this qualification
The SVQ in Dental Nursing has been developed by Skills for Health and is intended for people working team as trainee dental nurses. Candidates will gain skills and knowledge in health and safety, infection control, basic life support, personal development, working with dentists and patients, chair side support and dental radiography.
The SVQ is designed to be assessed in the workplace to allow candidates to develop the practical skills required to demonstrate competence. Examples of the settings or centres in which the SVQ is likely to be delivered include dental practices, clinics in the public and private sectors and college/employer partnerships where the underpinning knowledge will be delivered to support practice in the workplace.
The Units Ensure your own Actions Reduce the Risk to Health and Safety, Provide Basic Life Support, Prepare and Maintain Environments, Instruments, and Equipment for Clinical Dental Procedures, Contribute to the Production of Dental Radiographs, and Reflect on and Develop your Practice are incorporated into the HNC in Dental Nursing. The remaining SVQ Units are incorporated into the HND in Dental Nursing, thus enhancing flexibility for candidates and centres.
Who does this qualification suit
The SVQ in Dental Nursing is aimed at dental nurses or trainee dental nurses
Access
Entry is at the discretion of the centre. As these are work-based qualifications candidates must be in posts which will enable them to provide the required evidence.
Progression
On completion, successful candidates may apply to the GDC for registration as a Dental Care Professional (DCP) Dental Nurse provided they have also gained the PDA in Dental Nursing at SCQF level 7 (or equivalent). Candidates may also progress to the HND in Dental Nursing.
Approval
Specific subject expertise is required to deliver this qualification which is detailed in the Assessment Strategy. To gain approval for this qualification centres should complete and submit a Qualification Approval Application Form. The Business Development Team can provide guidance in completing this form.
Assessors and verifiers must be able to meet SQA's general requirements as outlined in the guide to approval.
How to assess
Assessment is through performance in the workplace and simulation is not allowed. Evidence may be classified into three categories: work produced by the candidate as part of her/his job; work produced by others relating to the work that the candidate does; and statements produced by others about what the candidate has done.
This evidence may be gathered by observable performance, products of work, witness testimony and personal statement, and presented as a portfolio of candidate work.
For general information on how to assess this qualification, please refer to the document Guidance on how to assess SVQs. For detailed guidance on how to assess this particular SVQ, please refer to the Assessment Strategy.
As stated in the Assessment Strategy, the use of expert witnesses is encouraged as a contribution to the provision of performance evidence presented for assessment. Given the current challenging assessment circumstances, centres may wish to expand their use of evidence gained from the expert witness.
Expert witnesses must be inducted by the centre so that they are familiar with the standards for those units for which they are to provide expert witness evidence. To support approved centres with the induction process we have approved the use of this short video.
SQA would like to thank colleagues from NHS Dental Education for Scotland for producing this video.
Where can you take this course?
Qualification content and delivery tools
Information about the qualification(s)
Qualification Structure
The SVQ GH0H 23 at SCQF level 7 consists of 11 mandatory Units.
For details of the Units making up the SVQ, please refer to the Qualification Structure (60 KB).
National Occupational Standards
Unit information for this qualification is available on our Unit Search.
Core Skills signposting
Core Skill mappings are carried out by the SSC responsible for the development of an SVQ. It is a requirement of SQA Accreditation that every SVQ submission includes information on where possible opportunities for candidates to develop Core Skills exist across the mandatory units.
Centres should note that mappings are not audited or validated against the Core Skills framework/units so are not accepted by SQA awarding body as evidence towards achievement of the Core Skills units.
Information about delivery, assessment, quality assurance and support material
Assessment strategy
Assessor's guidelines
Candidate Guidance and Portfolio
Qualification Verification Summary Reports