SVQ Custodial Care SCQF level 7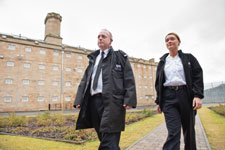 The SVQ in Custodial Care at SCQF level 7 is a nationally recognised award offered by the Scottish Qualifications Authority in partnership with the Scottish Prison Service. It has been developed by Skills for Justice, the Sector Skills Council for the justice and community safety sector, and is intended for people in the custodial care sector.
The mandatory topics range from maintaining security and order in the custodial environment to promoting equality and value diversity. Optional topics include maintaining security whilst escorting individuals to courts and other environments, and developing and sustaining effective working relationships with staff from other agencies.
This SVQ is available through employers (in the public or private sector) and is designed to be assessed in the workplace, or in conditions of the workplace.
Examples of the settings or centres in which the SVQ is likely to be delivered include: remand centres, local and training prisons, immigration removal centres, and The State Hospital.
Use the tabs below to open each section individually. Alternatively you can show allhide all the sections.
Why deliver this qualification
The SVQ in Custodial Care at SCQF level 7 is a nationally recognised qualification. It is mandatory for prison officers within the Scottish Prison Service.
Employers such as young offenders' institutions and immigration removal centres would similarly benefit from their staff achieving this qualification as the subjects covered equally apply to them.
Who does this qualification suit
This SVQ is suitable for operational staff working as prison officers or custody officers within prisons, secure accommodation, young offender's institutions and immigration centres. They will require skills and knowledge in the custodial care procedures within current legislation for dealing with those individuals remanded into custody, awaiting trial or sentenced by the courts.
People will take this qualification for a variety of reasons: because it is mandatory for them to do so; to gain promotion; to prove their job competence; and/or for personal development.
The SVQ in Custodial Care is a work-based qualification which assesses the skills and knowledge which people have and need to perform their job role effectively. Assessment must take place in the workplace, except for Units for which simulation has been deemed acceptable.
Access
Entry is at the discretion of the centre. No prior qualifications are required to undertake this qualification, although experience in or knowledge of the sector would be an advantage.
Progression
On completion of this SVQ, prison officers may seek promotion to a residential/regimes role.
Approval
Assessors and verifiers must be able to meet SQA's general requirements for technical/occupational competence as outlined in the Guide to Approval.
Centres without devolved authority require to come forward for approval and should contact SQA's Business Development Team for guidance.
Assessors and verifiers must be able to meet SQA's general requirements for technical/occupational competence as outlined in theSystems and Qualification Approval Guide (510 KB).
How to assess
For general information on how to assess this qualification, please refer to the document Guidance on how to assess SVQs. For detailed guidance on how to assess this particular SVQ, please refer to the Assessment Strategy.
Where can you take this course?
Qualification content and delivery tools
Information about the qualification(s)
Qualification Structure
Group Award Code:GH0V 23
The SVQ Custodial Care at SCQF level 7 consists of five mandatory Units and five optional Units.
For details of the Units making up the SVQ, please refer to the qualification structure.
National Occupational Standards
Unit information for this qualification is available on our Unit Search.
Core Skills signposting
Core Skill mappings are carried out by the SSC responsible for the development of an SVQ. It is a requirement of SQA Accreditation that every SVQ submission includes information on where possible opportunities for candidates to develop Core Skills exist across the mandatory units.
Centres should note that mappings are not audited or validated against the Core Skills framework/units so are not accepted by SQA awarding body as evidence towards achievement of the Core Skills units.
Awarding partnership arrangements
This SVQ is jointly awarded with the Scottish Prison Service.
Information about delivery, assessment, quality assurance and support material
Assessment strategy
Assessor's guidelines
Available on SQA's Secure website.
Candidate Guidance and Portfolio