SVQ 3 Life Sciences and Related Industries at SCQF level 7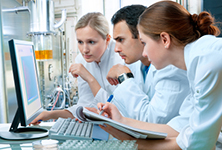 The SVQ 3 in Life Sciences and Related Industries has been developed by Cogent, the Sector Skills Council for Science-Based Industries. The SVQ allows candidates to demonstrate competence in job-related skills in their particular area of work and expertise.
This qualification covers the specialist knowledge and skills needed to follow health and safety procedures and maintain good working relationships in the life sciences and related industries.
There are also options to study more specific topics such as providing technical support for computer application software and equipment, diagnosing faults, repairing and maintaining equipment, carrying out and reporting on risk assessments, and carrying out and analysing sampling.
This qualification is available through colleges, employers and training providers.
Use the tabs below to open each section individually. Alternatively you can show allhide all the sections.
Why deliver this qualification
The SVQ 3 in Life Sciences and Related Industries at SCQF level 7 is a new qualification.
The life sciences industry is high-tech, innovative and highly diverse, spanning pharmaceutical, medical technology, biotechnology, and industrial biotechnology and has applications across many other sectors. Through the development of innovative medicines, medical technologies and services, its businesses, help people enjoy better health, wellbeing and quality of life.
Figures from 2013 show the life sciences sector in Scotland is thriving, with over 630 organisations employing around 32,000 people across the sector. These roles span across industry, universities, schools, further education colleges and the NHS. The types of work employees in these roles carry out include preparing samples through to testing. There are good job opportunities in these areas for people with the right skills.
Upon successful completion of the SVQ, learners will gain an internationally recognised qualification which guarantees that they have the skills, knowledge and abilities required to carry out their role successfully. Employers will also benefit from their employees being proficient.
Assessment is carried out in the workplace, minimising any time learners would need to be away from their work.
The SVQ can be offered full-time or part-time (eg day-release).
Who does this qualification suit
This SVQ is suitable for: learners who may have just left school; people in employment who wish to obtain a formal qualification; employees who wish to obtain short, continuing professional development courses.
Access
Entry is at the discretion of the centre.
Candidates should be in a job or placement where they are carrying out relevant tasks and responsibilities which allow them to gather the required evidence.
Progression
There are opportunities to continue to undertake further vocational training or academic qualifications. These may include (but are not exclusive to):
Degrees in Chemistry, Science or a related discipline
Higher National Certificate/ Diploma in Chemistry, Science or a related discipline
Developing a career in coaching through Assessor and Verifier Awards
Qualifications in a related area, including (but not limited to) Health & Safety, Training and Development, Business Improvement Techniques and Supervisory Management
Membership of a professional institution at Technician level (Further information available at www.rsc.org.com)
Cogent Gold Standard qualifications contained within the Gold Standard frameworks (www.cogent-prospectus.com)
Successful completion of the Modern Apprenticeship could lead to the following job roles:
laboratory technician
professional technologist
Approval
Centres with devolved authority for approval should use their own internal approval process.
Centres without devolved authority will have to come forward for approval and should contact SQA's Business Development Team for guidance.
Assessors and verifiers must be able to meet SQA's general requirements for technical/occupational competence as outlined in the Guide to Approval.
How to assess
For general information on how to assess this qualification, please refer to the document Guidance on how to assess SVQs. For detailed guidance on how to assess this particular SVQ, please refer to the Assessment Strategy.
Where can you take this course?
Qualification content and delivery tools
Information about the qualification(s)
Qualification Structure
Group Award Code: GJ30 23
The SVQ 3 Life Sciences and Related Industries at SCQF level 7 consists of two mandatory Units. Learners must then choose one of three pathways (Education, Industrial or Clinical) and complete six optional Units.
For details of the Units making up the SVQ, please refer to the Qualification Structure (74 KB).
National Occupational Standards
Modern Apprenticeships
This SVQ is a mandatory component in the Level 3 Modern Apprenticeship in Life Science and Related Science Industries.  SQA also offers the following components of this Apprenticeship:
GE4G 23    SVQ 3 Laboratory and Associated Technical Activities (Industrial Science) at SCQF level 7
GE4E 23    SVQ 3 Laboratory and Associated Technical Activities (Education Science) at SCQF level 7
G90N 46    NC in Applied Sciences at SCQF level 6
G9G6 46    NPA in Laboratory Science at SCQF level 6
G8WV 15    HNC in Bioscience at SCQF level 7
GK6E 15    HNC in Applied Sciences at SCQF level 7
G9F0 47    PDA in Laboratory Science at SCQF level 7
 
| | |
| --- | --- |
| Unit Title | SCQF 5 |
| Core Skills: Communication | F427 04 |
| Core Skills: Numeracy | F42B 04 |
| Core Skills: Information and Communication Technology | F42F 04 |
| Core Skills: Problem Solving | F42K 04 |
| Core Skills: Working with Others | F42P 04 |
Information about delivery, assessment, quality assurance and support material
Assessment strategy
Assessor's guidelines
Candidate Guidance and Portfolio
Qualification Verification Summary Reports
Scope and range document
Offer this qualification
Useful links