Skills for Work: Retailing National 5 (SCQF level 5)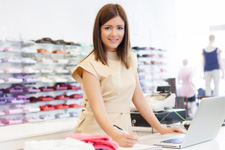 Qualification Information
Skills for Work: Retailing at National 5 is an introductory level qualification in Retail. It provides a broad experiential introduction to the sector and provides learners with the practical skills, knowledge and attitudes needed to work in retailing.
Learners will develop an understanding of the needs of a retailer and an appreciation of the importance of customers. They also gain important employability skills and positive attitudes relevant to both the workplace and learning environments.
Areas covered include maintaining, storing and replenishing stock, satisfying customer needs, planning and implementing a retail event.
Skills for Work courses are designed to provide learners with opportunities to develop Core Skills and skills for learning, skills for life and skills for work. The main focus of Skills for Work courses is to develop the skills and instil the attitudes required for employability.
This qualification is available through schools, colleges and training providers.
Use the tabs below to open each section individually. Alternatively you can show allhide all the sections.
Why deliver this qualification
The Skills for Work: Retailing award at SCQF level 5 has been developed in partnership with employers and industry to provide learners with a nationally recognised and certificated group award. The aim of the award is to provide a platform to work through the development of basic (key) skills, which are performed to a high standard.
It is particularly useful for candidates to have contact with retailers and retail workplaces while participating in this course.
The unit-based structure aids timetable flexibility. This qualification can be delivered on a full-time, part-time or in some cases day-release basis.
This award also provides progression routes to further study (see progression). 
Who does this qualification suit
This qualification is suitable for a wide range of learners including:
pupils from mainstream schools or other education establishments
school leavers
adult returners to education
learners in employment who wish to enhance their career prospects
learners participating in 16+ programmes
college students wishing to develop their skills and knowledge in relation to retailing
trainees participating in preparation for entering employment
individuals involved in voluntary activities
Access
Entry is at the discretion of the centre. The Skills for Work: Retailing award has been developed as an entry level qualification; as such there are no recommended entry requirements.
Progression
Successful learners may progress to:
Further/higher education
Modern Apprenticeships in Retailing
National Certificate in Retailing
Suitable training/employment
Scottish Vocational Qualifications in Retail at SCQF level 5
Approval
Centres with devolved authority for approval should use their own internal approval process.
Centres without devolved authority will have to come forward for approval and should contact SQA's Business Development Team for guidance.
Assessors and verifiers must be able to meet SQA's general requirements for technical/occupational competence as outlined in the Guide to Approval.
Resource requirements
It is recommended that centres work in partnership with other organisations to assist in offering a realistic working environment. This may be schools working with colleges, retailers or training providers to ensure learners have opportunities which allow them to develop key employability skills.
Internet access is desirable to assist learners in their research activities.
Access to video equipment is beneficial when undertaking role-play scenarios, particularly when assessing a learner's communication techniques associated with customer satisfaction.
It should be apparent to learners that this course is not a classroom-based course but involves opportunities to undertake practical everyday tasks as performed in a retail environment.
How to assess
Each individual unit specification gives detailed information on the evidence requirements and approaches to assessment for each unit.
Assessment support packs are available for this qualification.
Where can you take this course?
Qualification content and delivery tools
Qualification Structure
Group award code: C779 75 (24 SCQF credit points)
To achieve the Skills for Work: Retailing at SCQF level 5, learners must complete the four mandatory units (24 SCQF credit points).
For further information on the structure and units of this qualification please refer to the course specification document.
Qualification Verification Summary Reports
Offer this qualification