Creative and Cultural Qualifications
We offer a suite of RQF Creative and Cultural Qualifications on behalf of Creative and Cultural Skills.
Certificate
Diploma
A Memorandum of Understanding has been signed between SQA and Creative and Cultural Skills which identifies shared goals and areas for future partnership working.
We are pleased to announce that SQA have approved our proposal to award a suite of creative and cultural qualifications which have been earmarked for withdrawal recently by EDI/Pearson.
We will be working closely with SQA to ensure a seamless transition for our customers.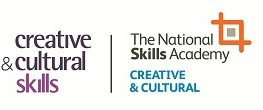 We are keen to continue to work with SQA in the future as a trusted partner who supports the creative and cultural sector.
Dawn Hillier, Head of Qualifications
Creative & Cultural Skills
FAQs
How can I offer these Qualifications?
What support materials are available?
What funding is available?
Who can support me?