PDA Learning Centre Operations SCQF level 7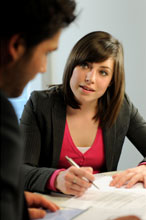 The Professional Development Award (PDA) in Learning Centre Operations at SCQF level 7 offers candidates the opportunity to develop the knowledge and skills that they will need as front line learning centre staff with direct learner contact wherever the centre is situated, which could be a college, library, community centre, private training provider, employer premises, commercial premises or public sector building.
This qualification is available through training providers and colleges.
Use the tabs below to open each section individually. Alternatively you can show allhide all the sections.
Why deliver this qualification
The PDA in Learning Centre Operations focuses on the development of the skills and knowledge of staff with direct contact with learners so they can advise and support learners effectively, and enhance the learner experience. It provides an introduction to the job for staff and the optional Units offer a potential CPD programme as their job role changes or the centre develops its services.
The skills and knowledge developed include:
interpersonal, technical, administrative and practical
best practice guidelines and audits
how to respond to changes in the legislative framework governing work in learning centres
helping to support a greater diversity of learners now using learning centres
Who does this qualification suit
The PDA in Learning Centre Operations will meet the employment needs of front line learning centre staff wherever the centre is situated, be it in a college, library, community centre, private training organisation, employer premises, commercial premises or public sector organisation.
Access
Access to the qualification is at the discretion of the centre and no formal qualifications are required for candidates undertaking this PDA.
Candidates, however, should be in a position that will allow them to generate the necessary workplace evidence to achieve the qualification.
Candidates should therefore ideally be working in, or have access to, a learning centre/learning environment, or in a role where the learning process is being managed. Without being able to draw on relevant employment experience and practice, it will be difficult for candidates to complete the PDA.
Progression
All Units within the PDA are SCQF credit and levelled. There are opportunities for progression to other qualifications such as the HNC in Learning and Development.
Approval
Centres with devolved authority are eligible to seek approval through their own internal approval process.
Centres without devolved authority will have to come forward for approval and should contact the Business Development Team for guidance in completing the combined CA1/SA1 form.
Assessors and verifiers must be able to meet SQA's general requirements as outlined in the guide to approval.
How to assess
Assessment is competence-based in the workplace
The recommended assessment methods centre on description and reflection of practice supported by witness testimony and work product. This will ensure that assessment is embedded in the workplace experience of candidates.
Where can you take this course?
Qualification Structure
Group Award code: G96E 47 (24 SCQF credit points)
SCQF level: 7
The PDA in Learning Centre Operations at SCQF level 7 consists of three Units, two mandatory Units and one from a wide range of optional Units.
Mandatory Units
Learning Centre Operations: Centre Administrative and Quality Systems — F55T 34
Learning Centre Operations: Working with Learners — F41M 34
Group Award Specification
Other Information
For candidates where English is not their first language it is recommended that they possess English for Speakers of other Languages (ESOL) level 5 or a score of 5.5 in IELTS.