First Aid at Work
Emergency First Aid at Work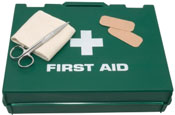 Welcome to the subject homepage for Emergency First Aid at Work.
First Aid at Work at SCQF level 6
Emergency First Aid at Work at SCQF level 5
These National Work based qualifications have been designed to provide an accredited and certificated award which will equip individuals with the skills and knowledge required to deal with a range of Emergencies requiring first aid in the workplace.
The qualifications are available through SQA approved centres This award will be available to individuals across the UK therefore it should be delivered in an accessible and flexible manner without any candidate being disadvantaged due to their geographical location or other structural factors.
SQA remind all centres to enter all candidates for the qualification in a timely manner and prior to any assessment taking place. A valid SQA certificate for the qualification will only be issued following candidate entry and successful completion of assessment.
Use the tabs below to open each section individually. Alternatively you can show allhide all the sections.
Why deliver this qualification
First Aid at work has been designed as a National Work based Qualification. The total contact hours for a First Aid at Work (FAW) qualification excluding breaks should be for a minimum period of 18 hours over three days. If award is for the purposes of re-qualifying then total contact hours should be for a minimum of 12 hours over two days.
For Emergency (EFAW) the total contact hours for the qualification excluding breaks should be for a minimum period of 6 hours over one day.
Note: Contact hours means time set aside for direct teaching and practical time.
Who does this qualification suit
This qualification is suitable for candidate in the work place who would like to become an accredited first aider or who has been nominated as a first aider.
On successful completion, candidates will be able to carry out the role of an emergency first aider in the workplace.
Benefits
Workplaces need qualified staff to act as emergency first aider, in a low hazard environment.
The short course lasts one day (or two half days/evenings) which means minimum impact on the candidate's time.
The qualification has a three year life span and is recognised by HSE and meets Health and Safety regulations.
Achievement is nationally recognised and certificated.
Access
Entry is at the discretion of the centre. Candidates should be carrying out first aid within the workplace at a level agreed with their employer.
Progression
Candidates who complete The Emergency First Aid at Work qualification can go on to complete the 2nd unit to gain the full First Aid at Work Group Award.
Please note that candidates must to do within a period of 10 weeks otherwise they will have to complete The Emergency First Aid at Work unit again.
Candidates should be acting as first aiders within the workplace at a level agreed with their employer.
Approval
Centres will have to come forward for approval and should contact the Business Development Team for guidance in completing the combined CA1/SA1 form.
Assessors and verifiers must be able to meet SQA's general requirements as outlined in the guide to approval for technical/occupational competence.  In addition Assessors and verifiers must be able to meet the specific requirements for these qualifications as follows:
Trainers/Assessors
Those involved in the training and assessment of these qualifications must have knowledge and competency in first aid as well as knowledge and competency to train and assess based on qualifications and experience
Trainers/Assessors must:
be occupationally competent in the area of first aid. This can be evidenced by:

holding a FAW certificate issued by either HSE or an Awarding Organisation/Body or having
registration as a doctor with the General Medical Council (GMC)
registration as a nurse with the Nursing and Midwifery Council (NMC)
registration as a paramedic with the Health and Care Professions Council (HCPC)
be occupationally competent in the area of training and/or assessing in line with the Learning and Development NOS 9 Assess Learner Achievement. This could be evidenced by holding a qualification listed in Appendix 1.
Trainers/Assessors should also be able to provide a detailed, chronological list of evidence to show that they have regularly provided EFAW/FAW assessments during the previous three years. If this is limited, evidence of other first-aid assessments may be provided.
No formal Trainer/Assessor qualifications
It is recognised that trainer/assessors may not hold formal qualifications but may have significant experience in undertaking these roles. It is expected that the trainer/assessors be registered and working towards formal qualifications within one year and that the qualifications are gained within two years.
During this period a portfolio should be maintained and include details of knowledge and experience gained and the time period over which they were applied, and any contributing training undertaken and the learning outcomes achieved.
How to assess
The assessment should determine a learner's ability to act safely, promptly and effectively when an emergency occurs at work and to deal with a casualty. All Assessment Criteria in the Units must be achieved. Summative assessment may take place at any time during the delivery of the qualification and does not need to be done as a final assessment.
It is however a requirement for the learner to be aware that assessment is taking place. You may use formative assessment during delivery of the qualification but this is not to be used in the assessment decisions of competence against the Assessment Criteria.
The assessment for the FAW course must be managed by a suitably-qualified Assessor, who will carry out a practical assessment for appropriate aspects of the Assessment Criteria. Underpinning knowledge will be assessed by use of written and/or verbal questioning supported with checklists. See examples provided.
Where can you take this course?
Qualification content and delivery tools
Structure
Emergency First Aid at Work at SCQF level 5 is made up of 1 mandatory unit
First Aid at Work at SCQF level 6 is made up of 2 mandatory units.
Assessment Strategies
Internal Assessment Reports
Offer this qualification