PDA Promoting Positive Behaviour SCQF level 7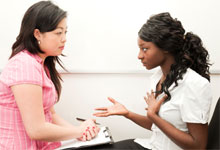 The Professional Development Award (PDA) in Promoting Positive Behaviour at SCQF level 7 is made up of two HN Units and two SVQ units, all at SCQF level 7. It provides an SQA qualification for those working with behaviour that challenges in the health and social care sector.
Maintaining currency of practice in this area is a requisite of good quality care services. This PDA has a fixed period of currency — two years from certification. A re¬ assessment unit has been developed to allow you to increase the currency period — it focuses on your continuing professional development in promoting positive behaviour. The re assessment unit also lasts for two years, and has to be completed on a two-yearly cycle to show robust evidence of current practice in promoting positive behaviour.
This qualification is available through colleges and training providers. Delivery approaches such as distance learning, e-learning and workplace place learning are actively encouraged and where possible used to enrich all candidates' experiences of the award. However, due to the nature of the Group Award, there are elements of the PDA that must be observed by an Assessor.
Use the tabs below to open each section individually. Alternatively you can show allhide all the sections.
Why deliver this qualification
The PDA in Promoting Positive Behaviour at SCQF level 7 has been designed as a taught course and will normally be delivered through a combination of workshops and self-directed study. The course can be delivered on a full or part-time basis. Delivery of the Group Award should provide a combination of off-the-job and work-based learning.
The award will enable health and social care staff to demonstrate competence in their roles, and provide opportunities for career progression and continuous professional development.
Who does this qualification suit
This award is aimed primarily at candidates who wish to develop their skills, knowledge and understanding of working with individuals and groups in a person centred way. The primary target group consists of individuals who are experienced and qualified practitioners, and who have qualifications which may include:
HNC in Social Care
HNC Healthcare
HNC Early Education and Childcare
SVQ Health and Social Care
SVQ Community Justice
SVQs in Youth Justice
SVQs Healthcare Support (Clinical and Non-clinical)
SVQs in Children's Care Learning and Development
PDA in Health and Social Care Supervision at SCQF level 7
PDA in Promoting Excellence in Dementia Skilled Practice at SCQF level 7
Other relevant professional awards, for example Nursing, Social Work, Education and Community Learning and Development.
Entry is at the discretion of the centre, but it is recommended that candidates have appropriate experience of working, and are currently employed, in a service delivery setting. It is also recommended that candidates possess a qualification at SCQF level 5 or above in a related discipline. Alternatively, candidates may be considered through a pre-course interview or employer's reference.
Progression
The PDA has been designed in such a way that candidates learn about positive practice in managing behaviour that challenges via the taught HN units, and demonstrate their learning in practice through the SVQ units.
Given that many practitioners are required to demonstrate evidence of continuous professional development as part of ongoing Scottish Social Services Council (SSSC) registration requirements, it seems opportune that they should be able to do this with certificated Units that are part of a recognised PDA.
Achieving the PDA in Promoting Positive Behaviour at SCQF level 7 may offer the holder an opportunity to progress to further professional qualifications and to seek some recognition of prior learning from their studies.
Candidates who successfully complete the PDA in Promoting Positive Behaviour at SCQF 7 may progress to:
SVQ 4 Health and Social Care
SVQ 4 Child Care Learning and Development
HND Social Services
HND Childhood Practice
HND Care and Administrative Practice
Relevant HEI qualifications eg, Social Work, Community Education, Teaching, Nursing or Allied Health Professions
Approval
Due to the nature of this Group Award all centres wishing to offer it must come forward for approval.
How to assess
This PDA is based on work-based learning.
Assessment methods used in this PDA include:
Reflection (written and or oral)
Portfolio of evidence
Role Play
Observation
Verification from workplace supervisor
Where can you take this course?