PDAs Childhood Practice at SCQF level 8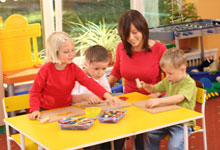 The Professional Development Award (PDA) in Childhood Practice at SCQF level 8 is designed to allow candidates to develop the skills and knowledge required for working in the early years and childcare sector.
These PDAs can be delivered by colleges, training providers and employer-approved centres.
Use the tabs below to open each section individually. Alternatively you can show allhide all the sections.
Why deliver this qualification
The PDAs in Childhood Practice at SCQF level 8 has a wide range of options to suit candidate and employer needs.
The qualification can be delivered on full-time, part-time and distance learning basis. Combined modes of delivery can be offered so students in employment can maintain and develop their practice whilst undertaking these awards.
Who does this qualification suit
The main target group for the level 8 award is those who have achieved a practitioner qualification at SCQF level 7 or equivalent.
Access
Candidates for the level 8 PDA should hold a practitioner qualification as prescribed by the Scottish Social Services Council (SSSC), for example HNC Early Education and Childcare, SVQ Level 3 Children's Care Learning and Development, or other recognised award.
Progression
On completion of the level 8 PDA, successful candidates will be able to progress on to the HND Childhood Practice, the level 9 PDA or, for example, BA Childhood Practice.
The PDA at level 9 is an award for those seeking to develop their professional knowledge and skills, and ultimately increase their future career prospects.  The award will advance their practice and enhance their personal and professional values and commitment.
Approval
Centres previously approved for the PDA in Early Education and Childcare  at SCQF level 8 will automatically be approved for the new PDA Childhood Practice at SCQF level 8 and all the Units contained within the Group Award.
Centres should contact the Business Development Team for guidance in completing the combined CA1/SA1 form.
Assessors and verifiers must be able to meet SQA's general requirements as outlined in the guide to approval.
Arrangements Documents
Group Award Specifications
Assessment Exemplars
Unit(s) and delivery tools